Celebrating 60 Years
Seattle Rep in the Community
This week we are celebrating Seattle Rep's 60th birthday with a series of posts reflecting on important aspects of our artistic and civic impact over the past six decades. Read on for a brief history of Seattle Rep's community engagement efforts.
In 1963, about two weeks before the opening of Seattle Rep's first production, King Lear, President John F. Kennedy sent a letter to then-Board President Bagley Wright to celebrate the Theater's opening. President Kennedy aptly described the benefits of creating a regional theater and its great importance to a city: "The development of [regional] theatres, soundly based in the life of the community...is one of the most important and hopeful signs in our national cultural life." This mirrors Seattle Rep's vision today of Theater at the Heart of Public Life. Seattle Rep's community programming has been at the center of this vision from the very beginning.
Bringing Seattle Rep into the Community
In the early years, Seattle Rep began to bring theater out into the community through various theater touring groups. In the first decade of our history, a group of performers toured local parks to perform classics during the summertime. In 1975, Seattle Rep launched what was called the "Hub City" program, where a Seattle Rep production would travel to community gathering places and artists would hold multi-day residencies featuring lectures, workshops, and classroom visits. In a 2013 interview, Seattle Rep company member and touring actor Eve Roberts recalled performing in a Boise high school auditorium and being approached by students: "We were greeted by two schoolgirls waiting to talk to us. They were crying. 'Their school,' they told us, 'never had presented poetry, only football and—at last—they had something they valued!' Now we were crying!"
In 1979, a second touring company was launched with a focus on youth education. The Mobile Outreach Bunch (MOB) brought specially created shows to junior and high school students throughout Washington state. MOB shows often featured young artistic talent and original productions underwritten with humor and irreverence.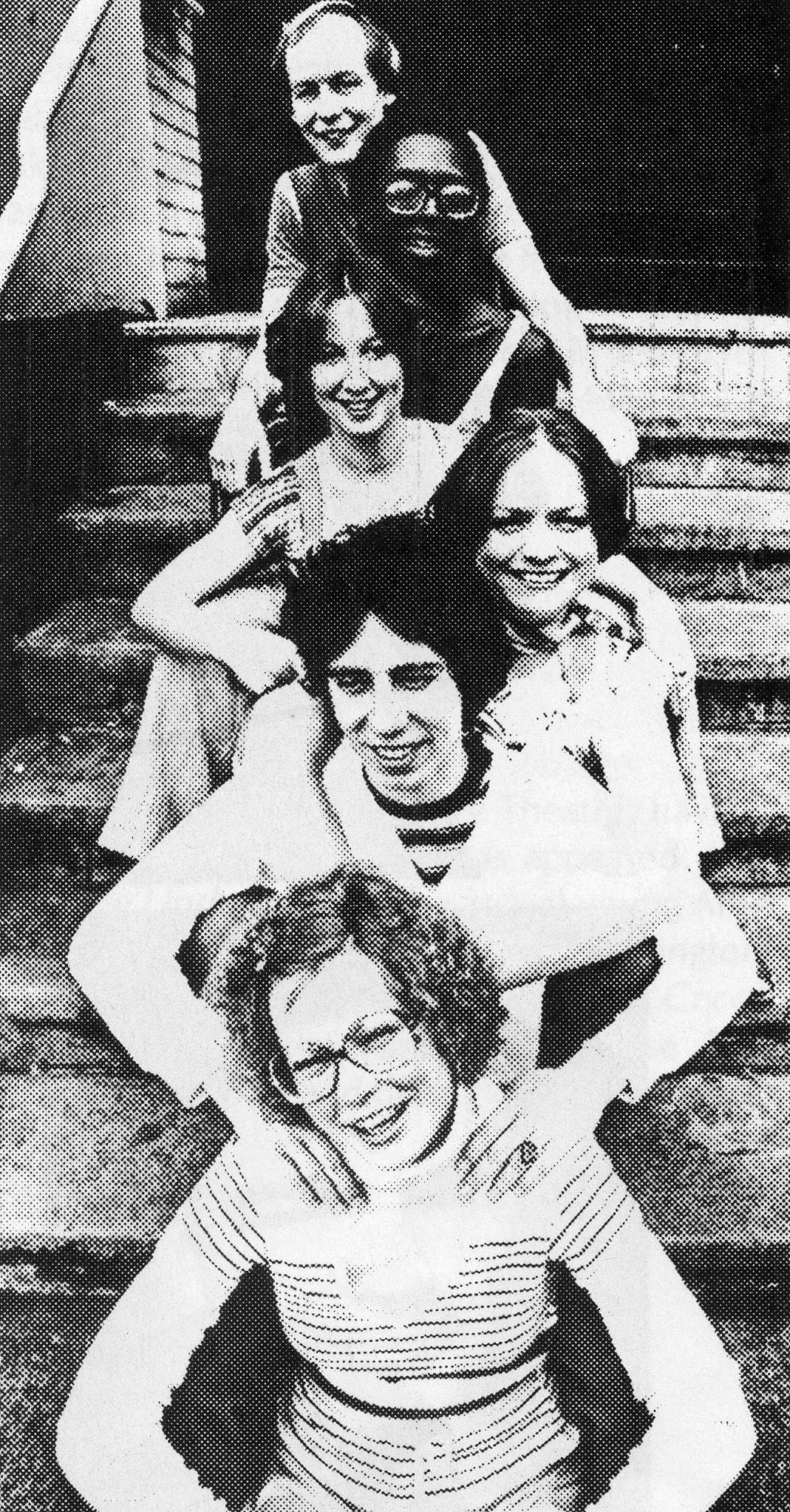 Seattle Rep's MOB. From the top: Steve Tomkins, Jeremiah Brewer, Marine Mosiman, Maureen Hawkins, Donald Matt, and Gail Hebert.
Started relatively early on in Seattle Rep's history, our Student Matinee program is the Theater's single largest and longest-serving youth program. Bringing students from across the region (and sometimes from neighboring states) into our spaces for dedicated Student Matinees provides young people with the chance to see life-changing theater live and up-close, and to discuss the work they've seen with professionals working on the show as well as their teachers and peers.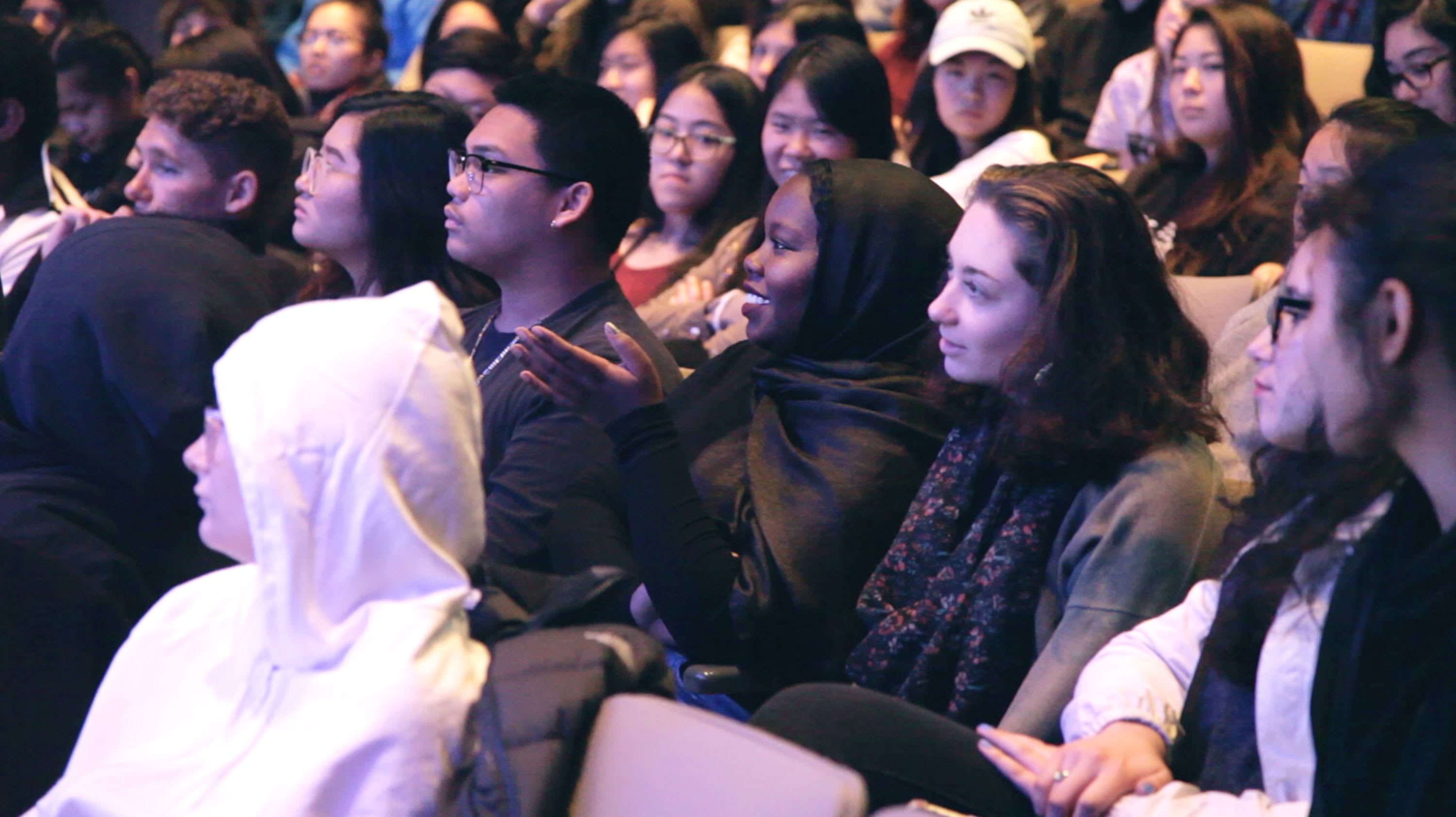 A snapshot of the audience at a Seattle Rep student matinee. Photo by Angela Nickerson.
The Growth of Youth Programs
In the 80s, 90s, and early aughts, Seattle Rep leadership realized that inviting youth to shows wasn't enough—we needed to create opportunities for young people to create theater themselves and engage in the art firsthand. Programs like TeenSpeak, The Yes Project (an initiative to produce more shows featuring youth perspectives), the high school Playwriting Project, Y-WE Speak (in collaboration with Young Women Empowered), in-class residencies, and many more were launched to more fully connect youth with the work on stage and their own creativity.
In 2020, with the onset of the COVID-19 pandemic, Seattle Rep's youth programs took to Zoom. Numerous virtual workshops, classes, and programs were quickly launched to engage young people around theater, even when venues were closed and school drama classes could not meet in person. These programs included Collective Playwriting, Black is the Light, Character Building, and more.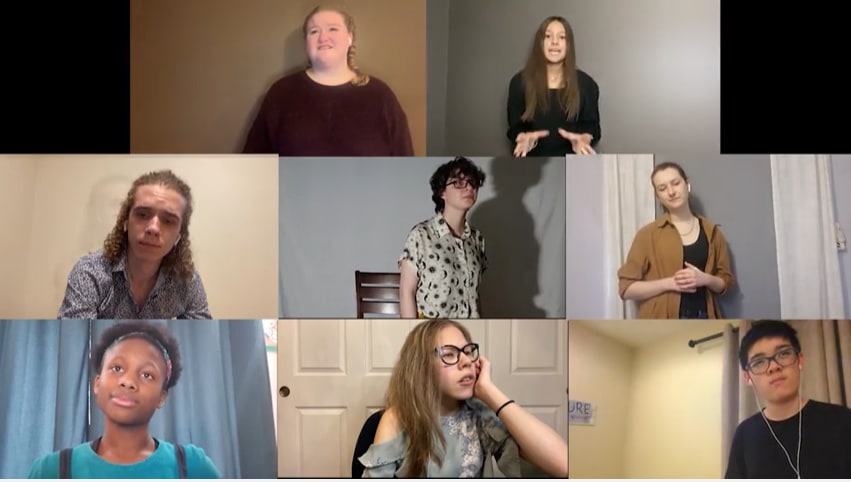 2021 August Wilson Monologue Competition participants performing on Zoom.
Youth Monologue Competitions
Seattle Rep's longstanding relationship with "The American Shakespeare," the late playwright August Wilson, continued to show itself through our productions of his incredible plays on stage, but also through his words being spoken by today's youth. From 2010–2021, Seattle Rep was the home of the Washington state branch of the national August Wilson Monologue Competition (AWMC).
In a 2012 interview, Seattle Rep's late former Director of Education and beloved theater mentor Andrea Allen recalled: "We were approached by True Colors in Atlanta, GA about becoming one of the half dozen regional sites for the competition. Frankly, it was a no-brainer for us. We had been looking for a means to more directly connect with young actors, and this theater has always had a deep connection and commitment to Wilson's work."
"We get to meet new people and try out things we would never think of doing. I never thought I was one to be in theater, but now I can't get enough of it! The feelings, friendship, community, and everything surrounding theater are the best possible things I could ever hope to experience." ⁠—Nicole Duong, 2022 Seattle Rep Next Narrative Monologue Competition Participant
In 2022, many from this same cohort of theaters nationwide launched a new monologue competition featuring original works from today's leading contemporary Black playwrights—thus, the Next Narrative Monologue Competition (NNMC) was born. The mission of the NNMC is to celebrate the rich tradition of Black storytelling while giving voice to bold artists of all cultures. This Black storytelling lens is not exclusionary but provides an inclusive portal to new worlds and the truths therein. In each participating region, participants progress through three competition rounds: Preliminaries, Semi-Finals, and Regional Finals. The top two winners from each regional competition then participate in the National Finals, receiving an all-expense-paid trip to New York City that includes workshops with theater professionals, tickets to a Broadway show, the chance to win a cash prize, and more.

2023 Finalist and Regional Winner Lelena Moore performing in the Regional Next Narrative Monologue Competition Finals at Seattle Rep. Photo by Sayed Alamy.
An Investment in Arts Engagement
To build on our longtime youth programming by creating opportunities for audience members of all ages to engage more closely with the art on stage, Seattle Rep announced its revitalized commitment to community engagement with the establishment of an Arts Engagement position in 2019. Dedicated wholeheartedly to its vision to put theater at the heart of public life, Seattle Rep invested in staff for this work to more widely engage our diverse community by increasing access and connection to the artistic work that the organization is creating and championing. This allowed Seattle Rep to more fully put its resources toward community programs and build deeper and more authentic relationships with local organizations and leaders to connect theater to issues affecting our broader community. One of this team's largest launches was of the Native Artist in Residence program in 2021.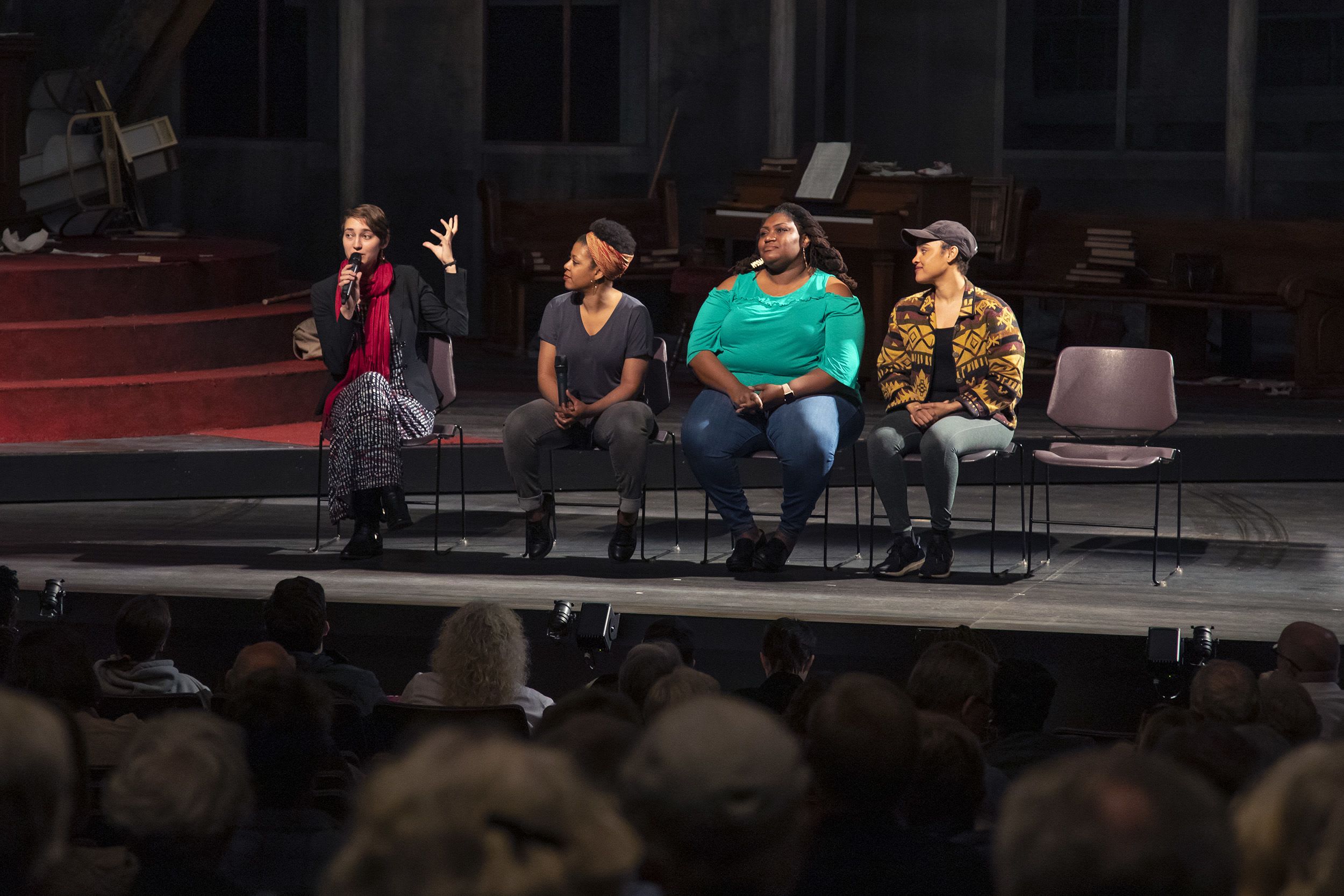 Former Director of Arts Engagement Nabra Nelson and members of the cast of Nina Simone: Four Women (2019) during a post-show Actor Talk, including Shontina Vernon, Shaunyce Omar, and Britney Nicole Simpson. Photo by Angela Nickerson.
Looking ahead to Seattle Rep's future arts engagement programming, new ventures already underway include expanding Seattle Rep's Teen Night program; collaborating on more inter-organization co-produced events (like Seattle Rep and Bandit Theater's recent Mad Science Improv show, built off themes from Seattle Rep's Islander); and growing Seattle Rep's sensory-friendly performances and sensory accessibility offerings... with even more on the horizon!
Seattle Rep's Public Works
In the 2010s, nationwide conversations about how theaters could build more authentic and reciprocal relationships with their communities were coming to the forefront. Like the realization that led to furthering its youth programs, Seattle Rep realized that offering free or low-cost tickets to historically under-invited community members was not enough to truly engage folks in the creative process and build longstanding, mutually beneficial relationships. These conversations at Seattle Rep led to New York's Public Theater model of large-scale participatory theater coming to the Pacific Northwest as Seattle Rep's Public Works in 2016. Rooted in the values of equity, imagination, and joy—and offered free of charge to all partners and participants—Seattle Rep's Public Works collaborates with community-based organizations to invite folks from all walks of life to take classes, attend performances and events, and join in the creation of ambitious works of participatory theater. Through this process strangers become neighbors—creating a region that is welcoming for all.
From classes and workshops held both at our community partner orgs and at Seattle Rep, to field trips to see Seattle Rep shows (followed by a meal and post-show discussion), to the mainstage Public Works productions featuring 60-100 cast members from all backgrounds and experience levels, Seattle Rep's Public Works is truly theater of, by, and for the people of our region.

The cast of Seattle Rep's Public Works' The Tempest (2023). Photo by Lindsay Thomas.

Explore more about Seattle Rep's youth engagement programs here, upcoming arts engagement events here, and Public Works program here.


Early years research and content referenced by Karen Rippel Chilcote for Seattle Rep's 50th Anniversary season. Interviews by Peggy Scales.