Celebrating 60 Years
Seattle Rep and New Works
This is a week for celebration at Seattle Rep! November 13, 2023 is the 60th anniversary of our very first production, King Lear, back in 1963. To celebrate our diamond birthday, we are sharing content all week long, both looking back at Seattle Rep's history and looking forward to the next 60 years.
At Seattle Rep, new work is in our DNA.
Inaugurated in 1979 by Daniel Sullivan as "New Plays in Process," this program has been known by many different names, but its goal has always remained the same: to invest in artists by providing the resources they need to bring the next great play to life. Through commissions, development, and world premieres, we strive to make Seattle a destination for the most exciting new plays and musicals.
Every play you ever loved was once a new play, rough and in development. Even the works of Shakespeare, Ibsen, or Hansberry needed time, resources, and collaboration to become the classics we now cherish. New plays matter because they are our most direct connection to the time and place in which we are living. For a theater to thrive, we must nurture and support playwrights finding new forms and creating new stories that reveal the struggles and the joys of what it means to be alive right now.
Since our founding, Seattle Rep has developed over 200 new plays and musicals through workshops, readings, and residencies. Since the theater's founding in 1963, we have also mounted 64 world-premiere productions. Among the works we have fostered are some of Seattle Rep's best-known and best-loved productions.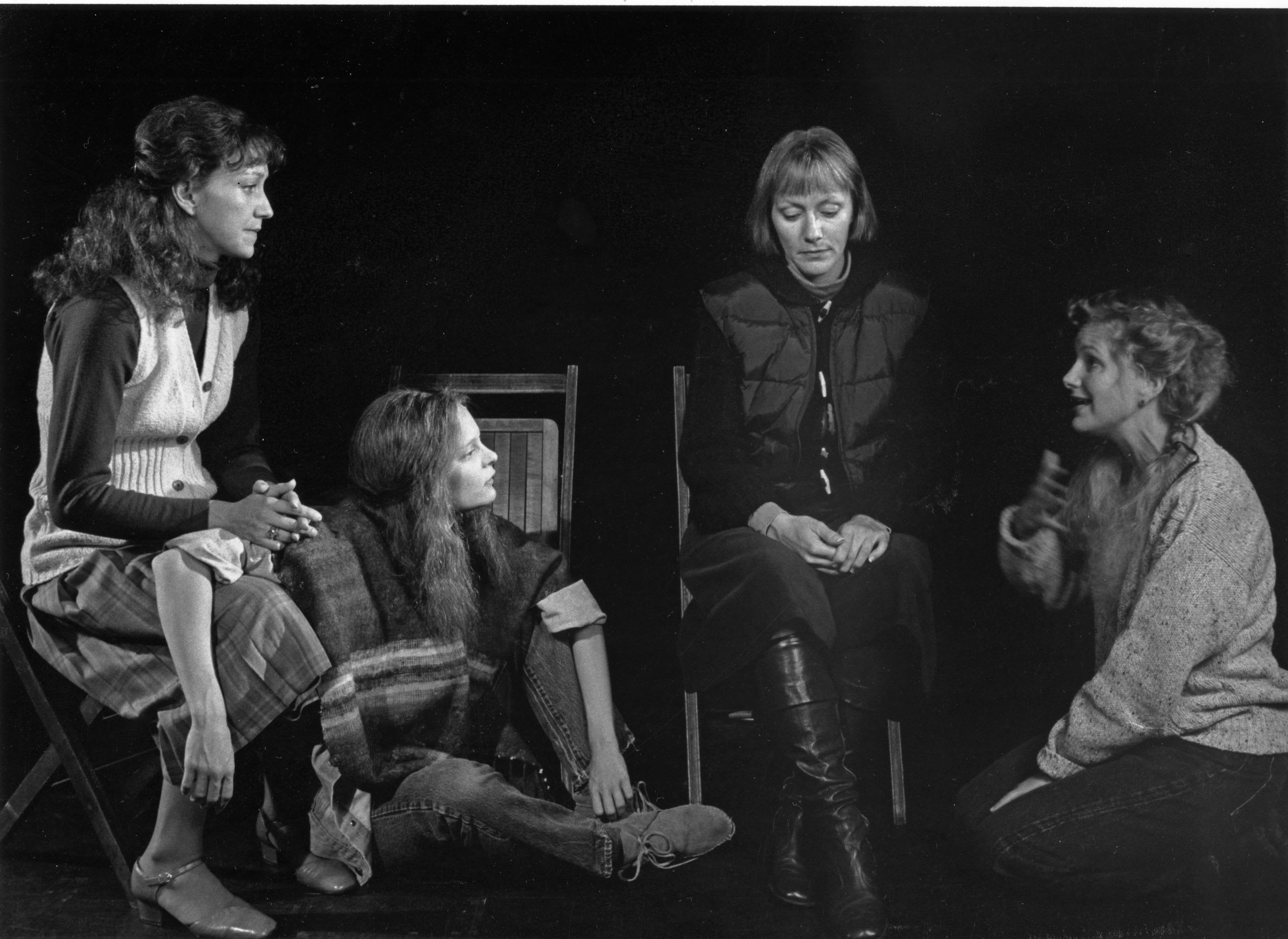 Lizbeth MacKay, Martha Plimpton, Caroline Aaron, and Gretchen Corbett starred in Seattle Rep's workshop production of Wendy Wasserstein's The Heidi Chronicles (1988). Photographer unknown.
From 1984 to 1994, Seattle Rep developed or premiered five productions that would go on to Broadway, including notable works by Herb Gardner (I'm Not Rappaport and Conversations with My Father), Bill Irwin (Largely/New York), and Wendy Wasserstein (The Sisters Rosensweig and Pulitzer Prize winner The Heidi Chronicles).
Over the next 25 years, we developed and premiered projects that went on to widespread success in regional productions nationwide and Off-Broadway, like Dan Sullivan's Inspecting Carol; The Cider House Rules, Parts One and Two by Peter Parnell; August Wilson's How I Learned What I Learned; Bill Cain's Equivocation and How to Write a New Book for the Bible; and An Iliad by Denis O'Hare and Lisa Peterson, which since its premiere at Seattle Rep in 2010 has gone on to dozens of productions in the U.S. and in countries around the world. We've nurtured multiple projects by artists like Cheryl L. West (Seattle Rep's most produced living playwright), Charlayne Woodard, Lauren Yee, Anna Ziegler, and Justin Huertas, building long-term relationships and visibility for their work on the national stage.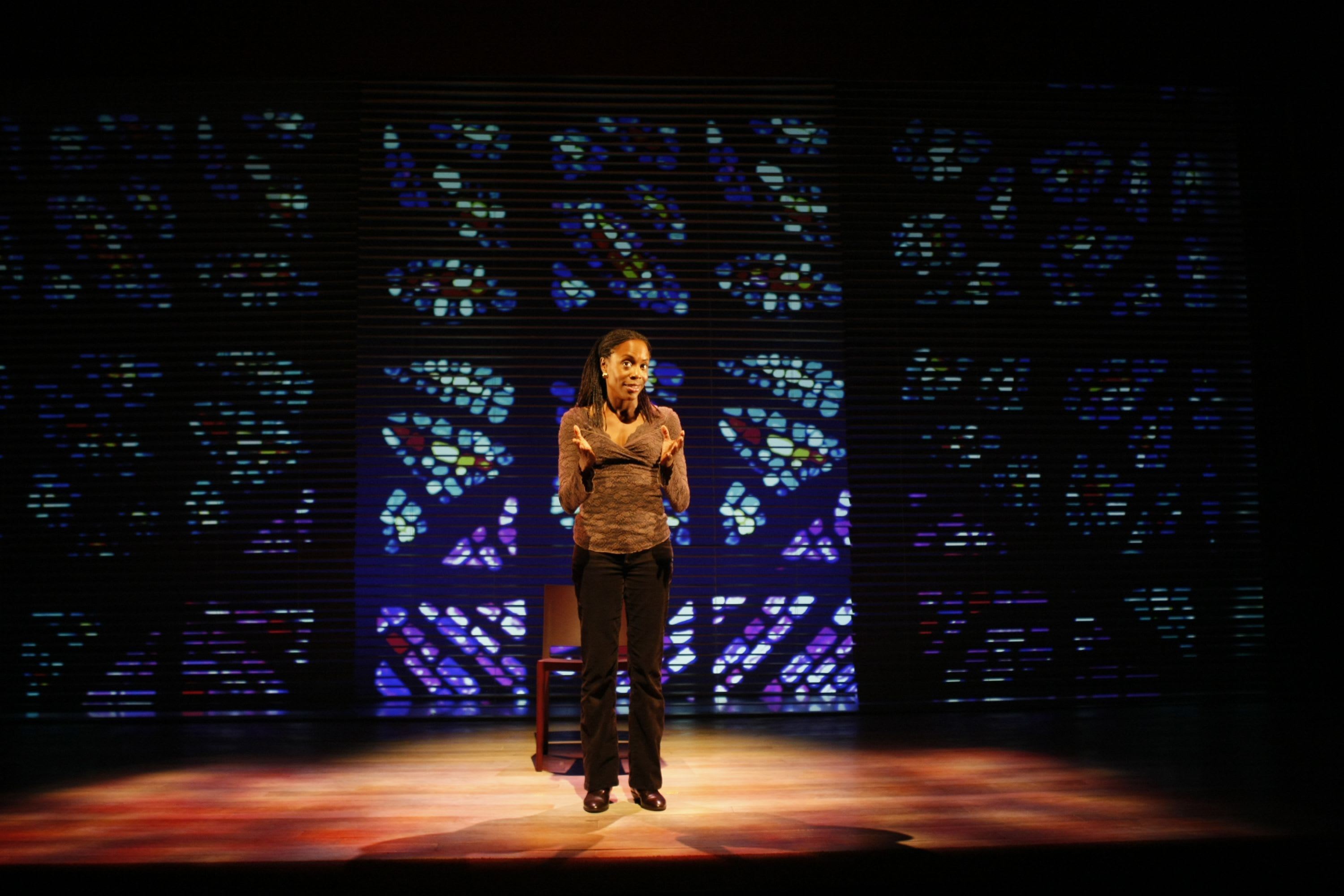 Charlayne Woodard wrote and performed The Night Watcher at Seattle Rep (2008). Photo by Chris Bennion.
In the last ten years, two more Seattle Rep premieres have gone to Broadway and beyond: Irene Sankoff and David Hein's Come From Away, workshopped here and co-premiered with La Jolla Playhouse, debuted on Broadway in 2017 and went on to tour around the U.S. and the world. Robert Schenkkan's The Great Society, a Seattle Rep co-commission that we co-premiered with the Oregon Shakespeare Festival, opened at Lincoln Center in 2019.
In 2020, Seattle Rep launched the most ambitious commissioning program in the Theater's history, providing resources to playwrights, composers, and directors. This commissioning program included the 20x30 initiative, which will generate 20 new plays by the year 2030 that wrestle with our current moment through the lens of climate and displacement; the New Directions initiative, which offers leading directors in the field development time and resources for fresh, bold concepts; plus, a musical commission for our Public Works program. These commissioning programs set the foundation for our ongoing commitment to living artists and plant the seeds that will one day bloom into the next great works on Seattle Rep stages.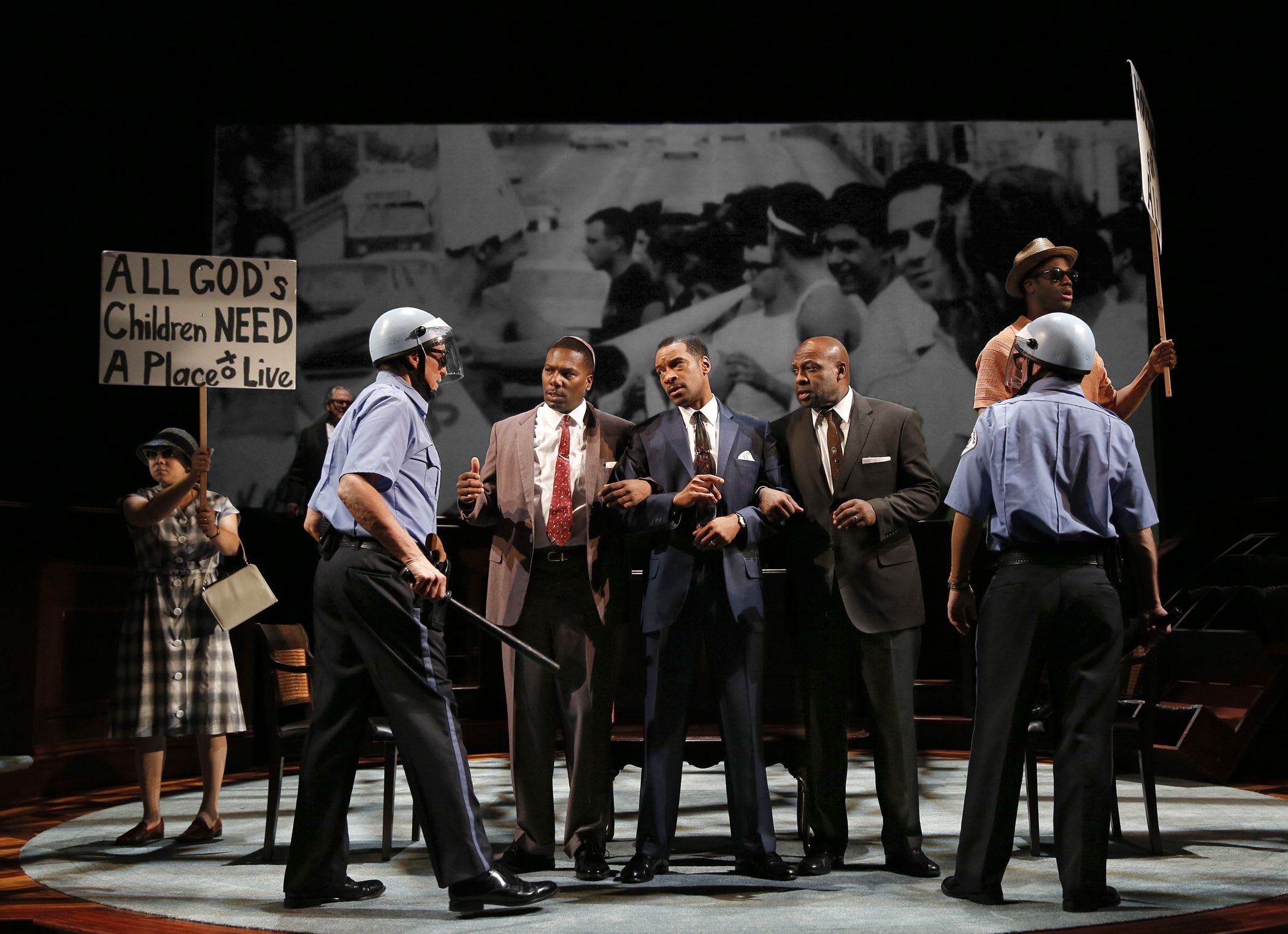 The cast of Seattle Rep's production of The Great Society (2014). Photo by Chris Bennion.
The 2022/23 Season—which included two world premieres—gave Seattle audiences first access to exciting, fresh voices and honored the legacy of new work at Seattle Rep. Justin Huertas' Lydia and the Troll was Seattle Rep's 64th world premiere, and one that exemplifies the full arc of development support we offer to artists. Soon after our production of Justin's Seattle Rep-commissioned Lizard Boy in the Leo K. Theater in 2015, Seattle Rep commissioned Justin to write another new piece. Over the next few years, Justin considered different project ideas, and in 2017, we workshopped the first draft of Lydia and the Troll, which at the time was just a collection of a few songs. Six years and five workshops later, Seattle Rep presented the world premiere in the Leo K. Theater in May/June 2023, co-created by Ameenah Kaplan.

Actor Sarah Russell in rehearsal for Justin Huertas' Lydia and the Troll (2023). Photo by Sayed Alamy.
In 2023/24, we are reinvesting in our new play development lab, The Other Season, and hosting workshops, residencies, and readings with an exciting array of multidisciplinary artists. This season we'll be developing work by commissioned artists—including a new autobiographical piece from renowned choreographer Donald Byrd, a 20x30 commission from playwright Benjamin Benne, and a new play by Nick Malakhow funded by the Elizabeth George Foundation. In addition to our commissions, we'll also be developing solo work with acclaimed author Lindy West and musician/comedian Ahamefule J. Oluo, culminating in public presentations on November 12, 2023 and February 9–11, 2024.
From readings to world premieres, our new play program proves that every play you've ever loved started as an idea, a challenge, a shared notion to collaborate on something new. It needed the investment of time, care, and resources to become something great. It needed a theater to believe in it, and an audience to experience it. Seattle Rep believes in new plays and playwrights, and we're grateful to the millions of local theatergoers who have experienced this work alongside us over the last 60 years. Thank you for being part of the journey.