INTERVIEW
What Does a Director Do?
Joyful. Listen. An Investigation. Collaborative. Outlines.
These are all words that describe a director's process. This week we sat down (virtually!) with a few directors on our staff and with directors from Seattle and beyond to discuss how they bring a work from page to stage.
Before the rehearsal process begins, what does your prep work look like?
May Adrales (director; at Seattle Rep: In the Heights, Vietgone): Meticulous, pages and pages of notes, and a line-by-line regurgitation of the script, script analysis, character bios, and pages and pages of dramaturgical information, a Spotify and YouTube playlist, and an image journal.
Sheila Daniels (director; at Seattle Rep: Indecent): It really depends on the piece in some ways, but two things I realized a few years ago that are important to me are: 1. Deeply immersive research and 2. What I call "Unlocking the gate." It can happen in the shower, on a walk on the woods, while laying in bed, etc. It has to do with allowing my mind to wander without editing and trusting that what is vital will come back to me.
Kaytlin McIntyre (Seattle Rep Director of Casting & New Works, director): I'm a big fan of written prep work and I do a full written analysis of the play. But what I've realized about myself is that I make more discoveries in conversation so I try and get that written work "on its feet" and talk through my questions with the designers, actors, and whoever will listen before we get into the rehearsal room.
Lia Fakhouri (Seattle Rep Public Works Associate, director): Hours upon hours of scrutinizing the text, mapping out possible staging, asking and answering all the questions I can. I basically want to show up to the process so prepared that I don't even have to think about all the work I just did and can absorb what my collaborators are sharing with me.
Tyler Krieg (Seattle Rep Assistant Production Manager, director): Lots of time spent reading the play over and over again, until I feel I know it really well. If I can, I'll do a read-through from each characters' perspective to try and get inside their head. Then I go back with a broad brush and put in general ideas of blocking, normally beginning and ends of scenes if there are complicated transitions, and a rough outline of picture dynamics (having someone sitting vs standing; three people in a triangle, etc.).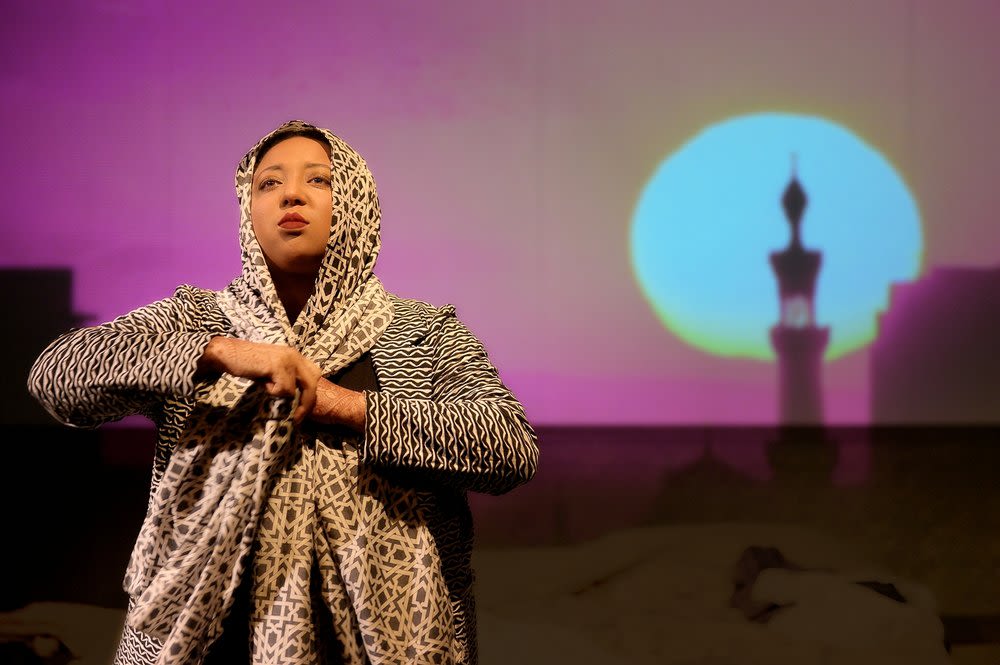 Fathiya Ritter in Veils by Tom Coash, directed by Lia Fakhouri. Produced by Macha Theater Works. Photo by Joe Iano Photography.
Who are some of your favorite directors or directors that you're excited by? What makes their work exciting?
MA: Dave Saint Pierre "Un peu de tendresse bordel de merde!"; Romeo Castelucci "On the concept of the face"; and the body of work by Ariane Mnouchkine and Choreographer Crystal Pite. Their work focuses on the power of the human body, rawness, vulnerability. They are unafraid to excavate the most terrifying, violent, passionate, and compassionate aspects of the human condition.
SD: Valerie Curtis Newton – there is a listening component to Val's work that always causes me to lean in, to hear on a psychic level. The collaborations between Crystal Pite and Jonathan Young, Betroffenheit especially, blow me away. They are a combination of searing emotional moments that hit one to the core and a stunning physicality.
KM: I tend to gravitate towards new play directors because that's the work I'm most interested in. Some of my favorites are Anne Kaufman, Saheem Ali, May Adrales, and Sarah Benson. They're all really masterful at lifting the author's vision with their own unique point of view.
LF: May Adrales is a top contender for me, she is a thoughtful director and such a creative human being.
TK: I saw Ragtime at The 5th Avenue Theater directed by Peter Rothstein, and I loved the minimalist directing style he used. Bringing shows to life through text building and storytelling rather than flashy tricks really excites me.
Do you have any stories from the rehearsal room that still affect you to this day?
LF: I had two actors tell me it was the first time they had been cast in a role that authentically represents who they are. I will never forget that and it is a constant reminder of how important representation is.
MA: Twelve years ago, I directed a small informal reading, and I cast a Latinx woman to be the romantic lead. At the end of the reading, the actor turned to me, tears in her eyes, and apologized for giving such a bad and stilted read. She went on to explain, "I didn't know what role I was playing until we sat down. I assumed it was the role without a name, 'Mysterious woman,' because that's the kind of role I usually get cast to play. I had no idea I was cast to be the romantic lead." Never underestimate the power you have to make a change in someone else's life. Never underestimate the power of representation and inclusion onstage.
SD: Pretty much the entire process of Indecent. A few particulars include: the radical tenderness anytime Cheyenne Casebier and Andi Alhadeff and I were working on their scenes. The first time Nathaniel Tenenbaum did the Rabbi's sermon off book. The first time we ran Wiegala with Kate [Olson] leading the song and how the world shifted permanently. The discussions about how to treat the Torah. Brad[ford Farwell] and Antoine [Yared] hashing out the Sunrise scene. Ron [Orbach] falling in love with the play. Julie [Briskman]'s masterclass every day just through watching. The first time Kate, Jamie [Maschler], and Alexander [Sovronsky] played for us. In the play, Lemml says about God of Vengeance "Your play, it changed my life," and so many of us involved with Indecent feel that way about our journey. I am forever changed my everything that happened from the moment of Braden [Abraham, Artistic Director] laying the script in my hands to this very moment of typing.

The American Dream at TCU Theatre in 2013, directed by Tyler Krieg.
As a director, how do you approach working with a playwright on new work?
LF: I am there to uphold and shepherd their vision. Flexibility is key, each process with a new playwright is its own special thing and our bond is unique to the script and productions' needs.
MA: With generosity of spirit, playfulness, and excitement, and a shared sense of adventure.
SD: I work to lead with questions – what drove the writing of this work? What do you want out of this time (if it's a workshop)? Are there things you want to see staged? It is so, so much better with a skilled dramaturg in the room who is really watching out for the script alone and is there to support and challenge the playwright as writer, so that the director and playwright can be deeply collaborating on what is there in realm of psycho-physical manifestation.
KM: For me, this is the most challenging and most rewarding relationship for directors. Most writers I know want an artistic partner, not just a craftsman who follows the instructions in the manual, so I try to bring my own voice to the work and interpret the text in a way that honors the writer's intentions. Directors are world builders and often we build that world by filling in all the unspoken dialogue. It can be seductive in new play development to try and get everything explained on the page but that can lead to heavy exposition and doesn't keep the audience on their toes. I always try to solve an issue with action first and if after a lot of problems it's still not making sense, then I'll approach the writer with a note.
How do you use your directorial skills outside of the rehearsal room?
LF: The way I problem-solve and communicate is deeply guided by my experience and skill set as a director.
MA: I can turn anything into a game and a wondrous magical world of pretend. Comes in handy when your most frequent companion is a 1-year-old, my daughter, Macy J!
KM: Surround yourself with great people! I'm not a micro-managing director, I like to get the right people in the room and empower them to do their part. On any project (from a massive casting session to planning a BBQ) I try and delegate as much as I can and capitalize on the vision and gifts of others. My wedding was probably the best example of this, I put my step mom and best friend from college in charge of table decorations because they have a great eye for design. My dad hung string lights with my lighting designer friend because they're great with tech. It was a wild and wonderful group effort.
TK: Preparation and Organization to allow space for improvisation is the name of the game. My philosophy is if you can be so prepared to immediately and confidently sit in the world of the play because you've done your homework, there's no limit to the bounds you and your collaborators can explore together.
SD: That's funny - I think much more about how to use life skills in the rehearsal room. The relationship between my work as a teacher and as a director is free flowing and they are constantly informing each other. I couldn't tell you what came first, but I can tell you that my students are one of my great inspirations to be not only a better artist but a better human.

The cast of Seattle Rep's In the Heights (2018) by Lin-Manuel Miranda, directed by May Adrales. Photo by Nate Watters.
Favorite rehearsal snack?
MA: Chocolate, though a few times someone has brought in Adobo, which I'll eat all day every day.
SD: Potato Chips.
KM: Peanut Butter M&M's.
LF: Chocolate-oat-chip cookies that I've baked for the cast.
TK: Cheez-Its. Guilty.
Favorite piece of advice you've ever received?
SD: Lift your work up to the divine rather than pulling it down into you.
KM: The rehearsal room can be a love-fest, but that doesn't matter if the show doesn't work. You have to let go of "being liked" and focus on making excellent work, even if it means pushing people (and yourself). Artists will respect you more. And at the same time, it's just theater and there's absolutely no room for abuse.
LF: Talk less, listen more - good advice for everyday life as well as directing.
TK: Don't be a jerk.
MA: All humans need story. All animals need food, shelter and water to survive. Story is what makes us human.

Andi Alhadeff, Ron Orbach, and Antoine Yared in rehearsal for Seattle Rep's Indecent (2019) by Paula Vogel, directed by Sheila Daniels. Photo by Angela Nickerson.
When did you know you wanted to be a director?
SD: I didn't for a good while! I directed some in college and found it too stressful. Then, I was an Acting Apprentice at Actors Theatre of Louisville and was blessed to be cast in a show Tina Landau was directing at the Humana Festival. Being in a room with Tina gave me a very different perspective. She works from a place of love, while calling on actors to do very difficult things. She taught me by example about courage and about how to work with trust simultaneously in your vision and in your actors.
KM: I knew I wanted to be a director when I was 15 years old, which is shocking because I'm generally very indecisive (I'm a real libra in that way). I didn't get cast in the school play so I directed my own pre-show in the lobby—it ended up being way more fun and creatively satisfying. That dream cemented when I was researching schools and I found a Directing program at Webster University in St. Louis. I read the course load for that degree and everything clicked, it was exactly what I wanted.
LF: In high school. I loved theater but didn't really enjoy being in the spotlight on stage, it never really satisfied me. For a final I was asked to direct a project, I devised and wrote a short one-woman show responding to a horrific accident that happened in my town. It was intended to be performed a la Theater of the Oppressed. I had my hand in all parts of the storytelling process and found my stride, from then I was hooked and knew directing was exactly how I wanted to share stories.
MA: I grew up in Appalachia, in Southwest Virginia, and I wasn't exposed to professional theater until I was 17. I had always fancied myself a writer, writing "novels" from age 10-16. I turned to playwriting after watching Shakespeare's Midsummer for the first time. I then wrote a lot of really really bad, yet passionate, plays - very esoteric, didactic works interrogating social justice issues and feminism but with some fantastic theatricality. As a first generation Asian kid, I felt I only had two career paths - Lawyer or Doctor. Knowing that I was too squeamish for medicine, I chose "lawyer" and spent my college years and first year out of college working in social justice, including working in migrant communities and also in Cameroon. Once back in the States, I began working at a prestigious think tank organization in NYC, thinking that after a year or two, I'd be ready for law school. All the while, I never stopped doing theater, and was constantly writing, directing, and creating work. Two things happened at once to me. I was fired in a fantastically outlandish way at this prestigious think tank for using my office on 68th and Park Avenue as prop storage and casting office for my latest opus, NOW: no one's winning. My props for this feminist drama were a six-foot cloth female dummy, spike heels, some questionable items like empty cartons of food and sex toys. Secondly, I received a mixed review on that same play, which said, "where Adrales fails as a writer, she makes up triple fold as a director." And though I was fired, my colleagues at the think tank truly liked me as a person and wished me well at a farewell party and announced that I was pursuing my dream as a theater director. It was at that moment that I finally said, "yes, I am a theater director," and I haven't looked back since.
In a word, how would you describe your process?
SD: Listen.
KM: An Investigation.
LF: COLLABORATIVE.
TK: Outlines.
MA: Joyful.


Article header image features Sarah Russell, Kirsten deLohr Helland, and director Ameenah Kaplan in a workshop of Justin Huertas' Lydia and the Troll. Photo by Angela Nickerson.