Behind The Scenes
Preparing for The Tempest Ahead
In less than two weeks, Seattle Rep's Public Works is putting on its first fully-staged live production in four years. Inspired by the magic of the Pacific Northwest, this musical adaptation of The Tempest is sure to rock the boat! Check out this artistic Meet & Greet conversation with Director Hattie Claire Andres, Scenic Designer Matthew Smucker, Costume Designer An-lin Dauber, and Sound Designer Erin Bednarz.
Opening Waves
"I'm not experienced with a Public Works show, but everyone that I speak to about Public Works who has participated or been in the audience for it talks about the power of this experience. I'm so thrilled to be an observer and get to know [The Tempest ensemble] this month," shares new Artistic Director Dámaso Rodríguez (pictured above).  
Public Works Values and More!
Meet Ally Poole, Seattle Rep's new Public Works Manager! (Pictured above.) This is Ally's first time working on a Public Works production. At every Public Works gathering, she or another member of the team reads out loud the Public Works values. It's important to remind ourselves why we do the work and partner with community-based organizations to invite folks from all walks of life to participate.
Seattle Rep's Public Works is rooted in the values of equity, imagination, and joy. 
EQUITY. Listen fully and do your best to make sure everyone has what they need to show up, feel safe, and succeed. 
IMAGINATION. Exercise your creativity not only in what we are making but in how we are making it. 
JOY. Enjoy each other and the work. Plant, cultivate, and grow our collective joy. 
Explore more about the Public Works program here.
World of the Play
"Our current production is set in the current year, 2023. It is inspired by the landscape of the Pacific Northwest: the Hoh rainforest, Olympic Peninsula, Washington Coasts, San Juan Islands. It is set in a magical amalgamation of those places that we [the ensemble] get to imagine and create together," shares Director Hattie Claire Andres (pictured above).  
Unlike a traditional play, in a Public Works production the ensemble is an integral part of creating the world of the play: "We have a great mighty ensemble who are the magical creatures of this island. As an ensemble, they create the island's ecosystem. For example, we have the Forest Sophisticates, Water Bohemians, Earth Rebels, and Ariel's Super Six. It's important to have your backstory down and specific," mentions Hattie. After the world of the play is built, five professional actors step into the process.
A Transformational PNW Set
"We chose to stay away from a literal representation of an island. We looked at a more stylized, abstracted world that can really harness the imagination of the ensemble and the interpretation of the audience," explained Scenic Designer, Matthew Smucker (pictured above). The island contains several locations that are explored with a transformative single set. 
Around the stage are "fabric panels with color schemes coming from the San Juan Islands. We were looking at the blues and bright white colors which tap into the spirit of the island. The other major set piece is the catwalk structure. It's not meant to be architectural—it's irregular, earthy, inspired by tree forts, sand, and forests. The spiral staircase we can think of as a tree. This gives us levels for a higher place to play." 
Being set on an island, he says, "we are making jellyfish, leaves, snails, and more out of junk by upcycling found and repurposed items," inspired by the spirit of the Fremont Solstice Parade. 
Water Babies, Forest Sophisticates, and Earth Rebels
It's all about research in the beginning of the process. Starting many months before the first day of rehearsal, "I started to look at the San Juan Islands and Hattie brought up the Hoh rainforest," explains costume designer An-lin Dauber (pictured above). "A big question for me was how do I turn this into clothing?" Inspired by couture designs manipulating the human silhouette, An-lin played with non-traditional human clothing outlines for the spirit characters of the island.
Designing costumes for 60 ensemble members is not an easy task, so a second question naturally came up: "How do we turn it into something we can create on a massive scale on a shorter time?" asked An-lin. Looking at different materials and playing with shapes became key, as did designing a core "look" for large groups of ensemble members.
The Earth Rebel costumes were inspired by the Seattle grunge scene of the 1990s, like torn jeans, bigger silhouettes, and stick crowns. "We wanted to play with a Seattle mixed look with non-human aspects," explains An-lin.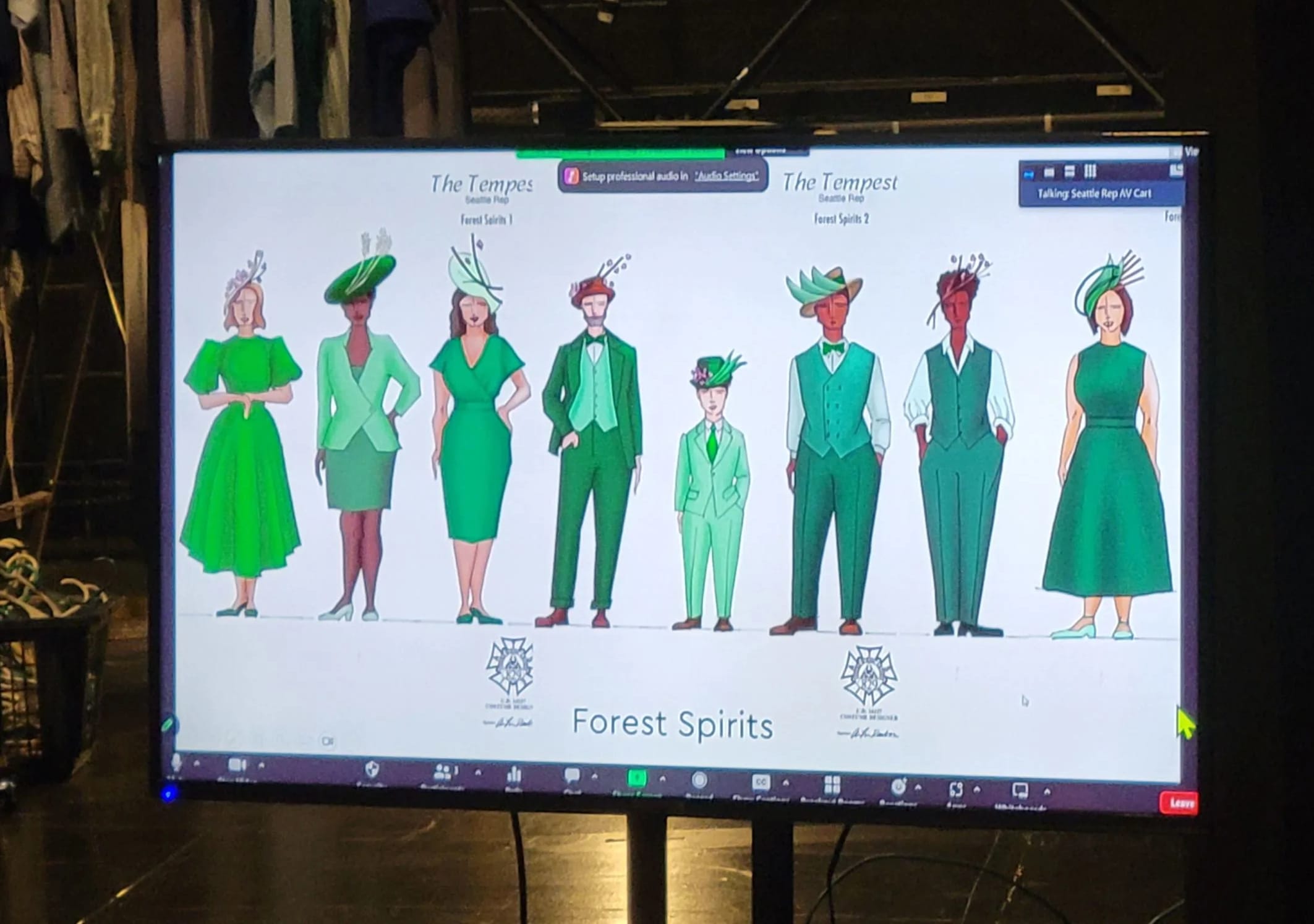 Forest Sophisticates: "I wanted the forest people to be distinctly different from the earth people." To demonstrate their personality in the costume, "They're going to be greener. The distinct element in this world for them is going to be hats."  
Water Bohemians: "Also known as the water babies. They enjoy sitting by the water, so I wanted them to have flowy pieces."
Ariel's Super Six: "They're the fog in Seattle. They like grey and fog. Their pieces are more contemporary since  Ariel doesn't speak in verse."  
Interlopers/Neopolitans: These are the city dwellers who land on the island due to a storm. "These pieces are inspired by Los Angeles producers, so lots of colors, tailoring, and specific pieces," says An-lin.
Servants: These characters are coming from LA as well. "We pulled them into a black and white world. Unlike the rest of the Neapolitans, the Boatswain, Trinculo, and Stephano's clothing got affected by the storm." 
Humans: The members of this group have been on the island the longest; Miranda, Caliban, and Prospero. Their pieces are "made from items that have been washed up on the island. Since Caliban is in between the spirit and human world, their costume is better adapted for the island world."  
The Sound of Magic
When one thinks of magic, perhaps sparkles, sprinkles, and light sounds come to mind. "What does magic sound like in the Pacific Northwest?" asks Sound Designer Erin Bednarz (pictured above). After being awestruck by the beauty of the Pacific Northwest, Erin moved to Seattle 15 years ago. "It's going to be a big old love letter to Seattle and this beautiful region that we live in," Erin shares.
Did You Know? 
The Tempest is known as Shakespeare's last play

,

released in 1611. 

This musical adaptation of

The Tempest

was originally written by Lear deBessonet and Todd Almond for the Public Works program at The Public Theater in New York in 2013.

There are 3 founding Public Works National partners: Dallas Theater Center (Dallas, TX), the National Theatre's Public Acts program (London and nationally, United Kingdom), and Seattle Rep. There are many more Public Works affiliates nationally and internationally.
Find out more about Seattle Rep's Public Work's production of The Tempest, on stage August 25- 27, 2023 in the Bagley Wright Theater.