According to Coyote
The Legacy of John Kauffman
Prolific actor, playwright, and theatermaker John Kauffman (1947 - 1990) was a former company member at Seattle Rep. The upcoming run of Red Eagle Soaring's According to Coyote in the PONCHO Forum at Seattle Rep (May 12 - 14) celebrates John's contributions to the theater world, locally and beyond. Read on for more about John's life and legacy from his niece and director of the production, Josephine Keefe.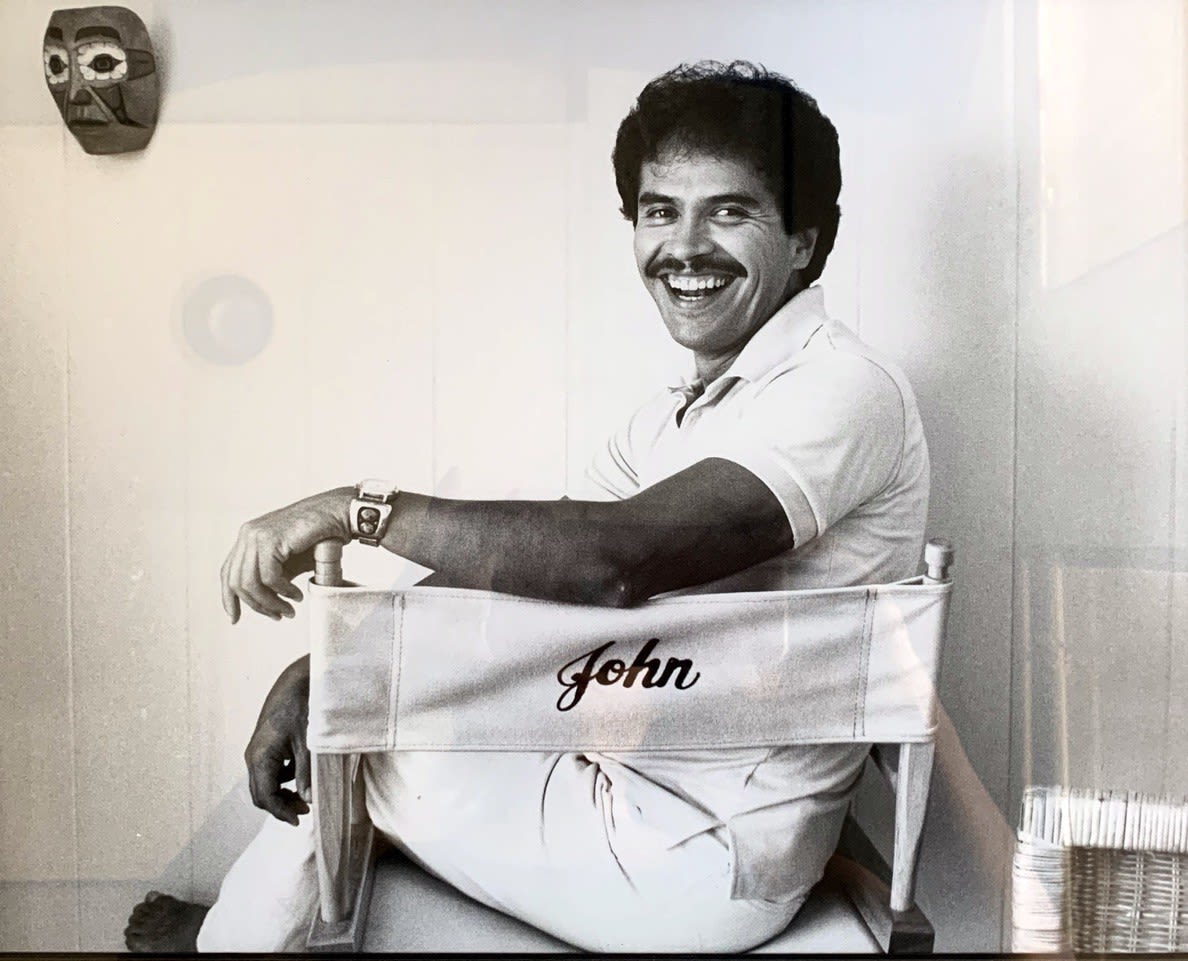 "'Oh, I knew your uncle John,' is often what I hear most from those in the theater community, both locally in Seattle and regionally from Honolulu, HI to Washington DC. I was five years old at the time of his passing but have grown up with his memory ever constant in my family. His legacy and impact on theater continue to this day. After his passing in 1990, his work continued to inspire countless others to uplift his life mission and commitment to artistic excellence in showcasing and celebrating Native American storytelling and performance. He was an integral part of the Seattle theater renaissance of the 1970s; a true collaborator and artist, whose passion and commitment to the arts culture in Seattle directly impacted the theaters we've all come to celebrate as institutional staples in the city.
John was born June 24, 1947, in Lewiston, ID. He was one of seven children, the eldest, and the son. His six younger sisters looked up to him with tremendous love and pride. From an early age, John possessed a vibrancy and artistic flare that could not be contained, organizing productions with his siblings in the back yard of their small farm in Clarkston, WA. He saw beauty and opportunity in everything he did, never let anything hold him back, and encouraged those around him to pursue their dreams. When his family moved from the Nez Perce reservation to Seattle, WA, John attended and graduated from Cleveland High School. It was during these years John's love for theater was nourished, building a network with other young thespians across the city.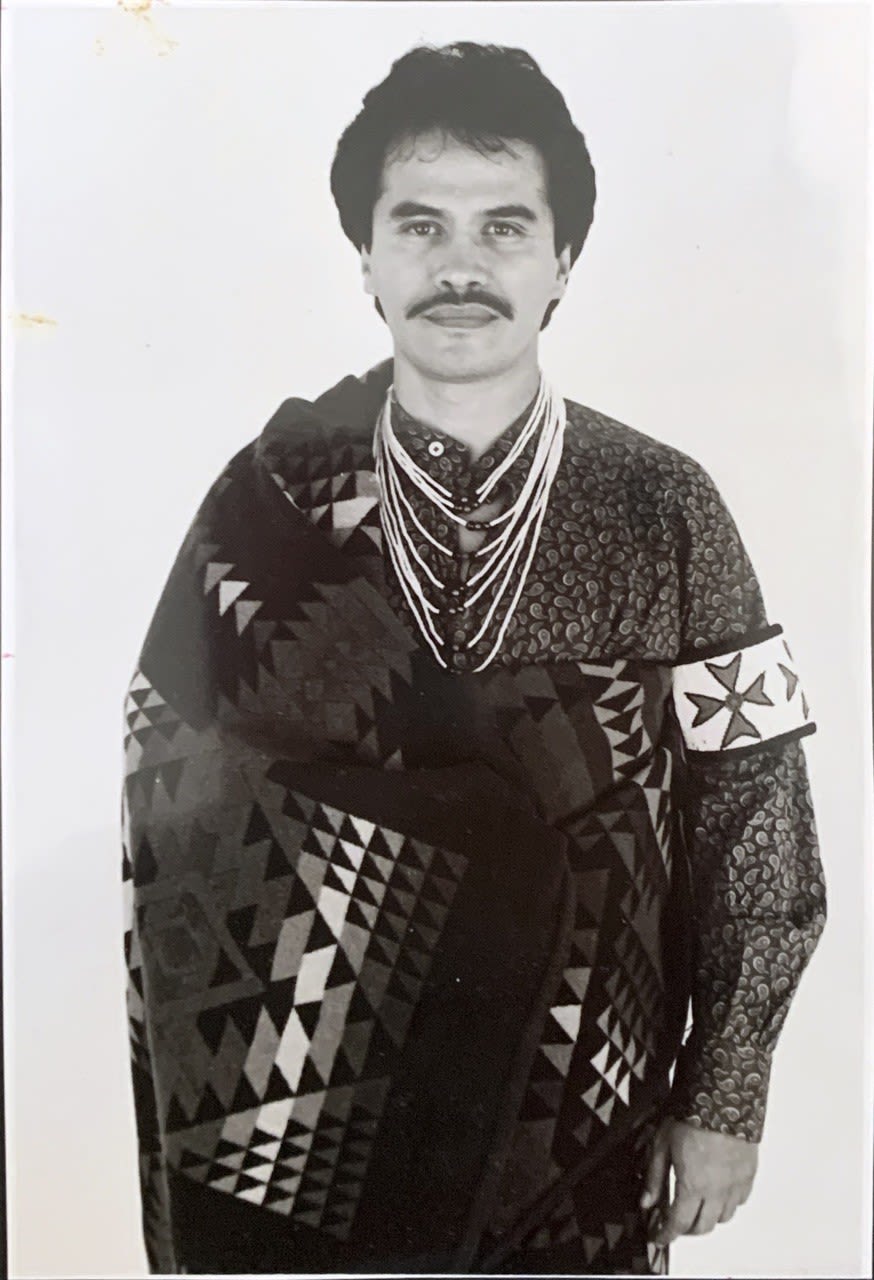 In 1970, John became one of the first graduates of the University of Washington's prestigious Professional Actor Training Program, earning him a Master of Fine Arts degree from U.W. After graduating from U.W., John co-formed the Red Earth Performing Arts Company, featuring productions of Native American works and performances. John saw a vital need to keep Indigenous storytelling in the cultural center of the Seattle theater scene, resisting erasure of Native American artistic contribution to the verging Seattle arts community. Over the years of the 70s and 80s, John worked tirelessly as an actor, director, playwright, and artistic director for some of Seattle's major theater companies, including the Empty Space Theatre (with which he was associate artistic director for several years), Seattle Rep (with which he was a company member), A Contemporary Theatre, Seattle Theatre Group, Pioneer Square Theatre, and the Seattle Children's Theatre.
| | |
| --- | --- |
| | |
In 1972, John performed his one-person show Indian Experience at A Contemporary Theatre which later went to Broadway theaters at New York City and the Kennedy Center for the Performing Arts. He subsequently received an Emmy Award for a television adaptation of the performance. Intermittently between theater projects, John worked in TV and film and played roles in seven movie and television productions, including McCloud, Chips, Police Story, The Great Divide, High Ice, Cinderella Liberty, and I Will Fight No More Forever, which depicted the Nez Perce War of 1877. Inspired to continue sharing stories from the Indigenous perspective and making those stories accessible to youth, John began writing his next project, According to Coyote, an anthology of stories from the plateau and other tribes presented in monodramatic form; a single actor bringing together many characters in a confluence of music, dance, and mesmerizing performance.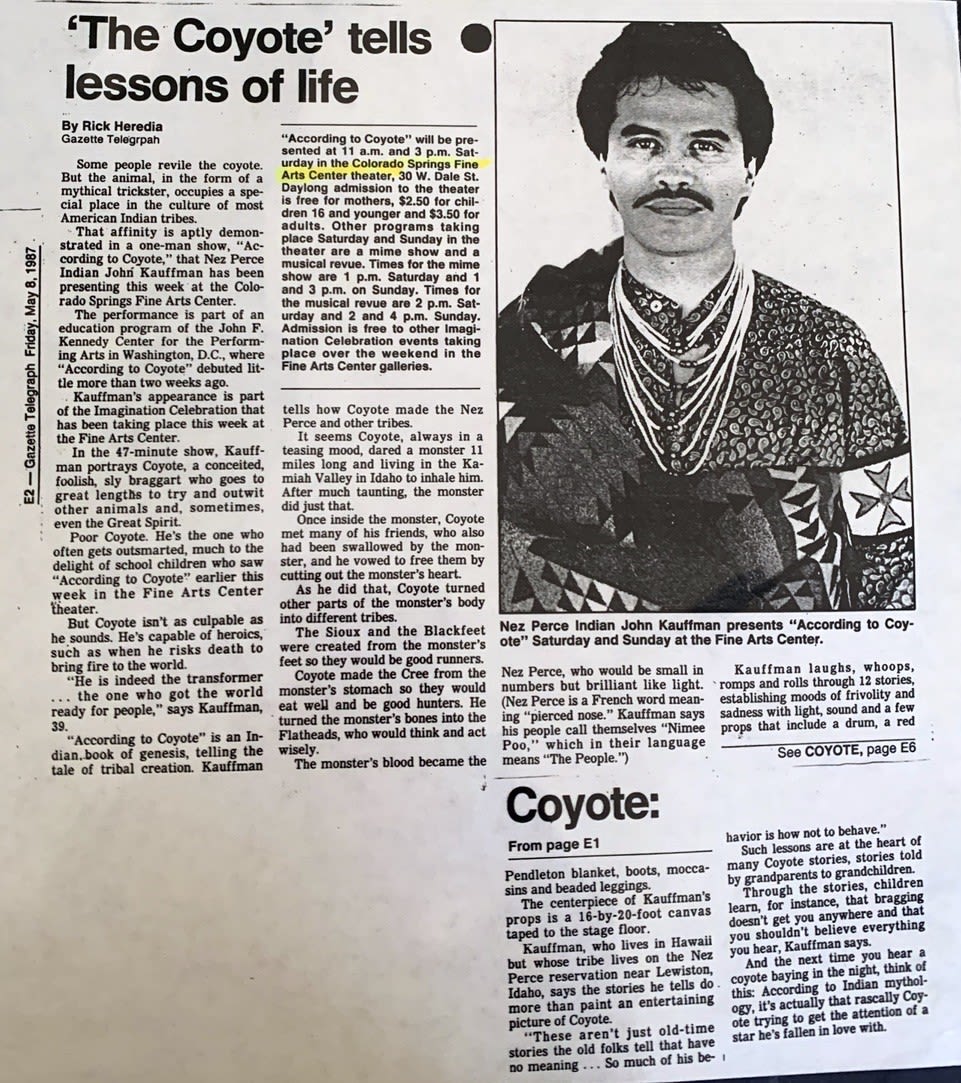 In 1987, John premiered According to Coyote at the Kennedy Center for the Performing Arts, which later toured internationally throughout 1988. The play offered a convergence between his identity as a Seattle trained theater artist and Native American Coyote stories, including several Nez Perce stories of his youth passed down from his grandfather. His According to Coyote play, and his performance of it, provided audiences the experience of intergenerational storytelling through an Indigenous lens.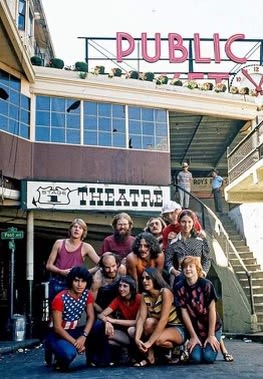 It was in 1989 that John was diagnosed with AIDS, which in those early years of the epidemic meant death as treatments were not yet available. Never at any point letting the virus or stigmas of the time associated with AIDS hold him back from his life's work, he continued to work as Artistic Director of the Honolulu Theatre for Youth up to his passing in January 1990. What he left behind was a 25-year span of artistic genius and indelible legacy which has lived on in the programs founded since his passing and the Native youth who have directly benefited from them. At his memorial services at the Daybreak Star Cultural Center, the late Bernie Whitebear announced the creation of a new Native American theater company that would be dedicated to his memory and contributions to Native theater. Red Eagle Soaring was born from that moment and continues to provide a home in Seattle to nurture and encourage many talented young Native artists today."
Join us at According to Coyote to celebrate the work and legacy of John Kauffman, taking place through May 12 - 14, 2023 in the PONCHO Forum at Seattle Rep.
Sources Cited
Archive | Jan 17, 1990, Updated Jul 29, 2013, | JOHN KAUFFMAN JR., 42, ARTISTIC DIRECTOR, ACTOR | Lewiston Tribune
Archive | Jan 16, 1990, | John Kauffman, Ex-Seattle Actor, Dies | Seattle Times