ARTICLE
Speaking Wilson's Words: The August Wilson Monologue Competition Reaches 10 Years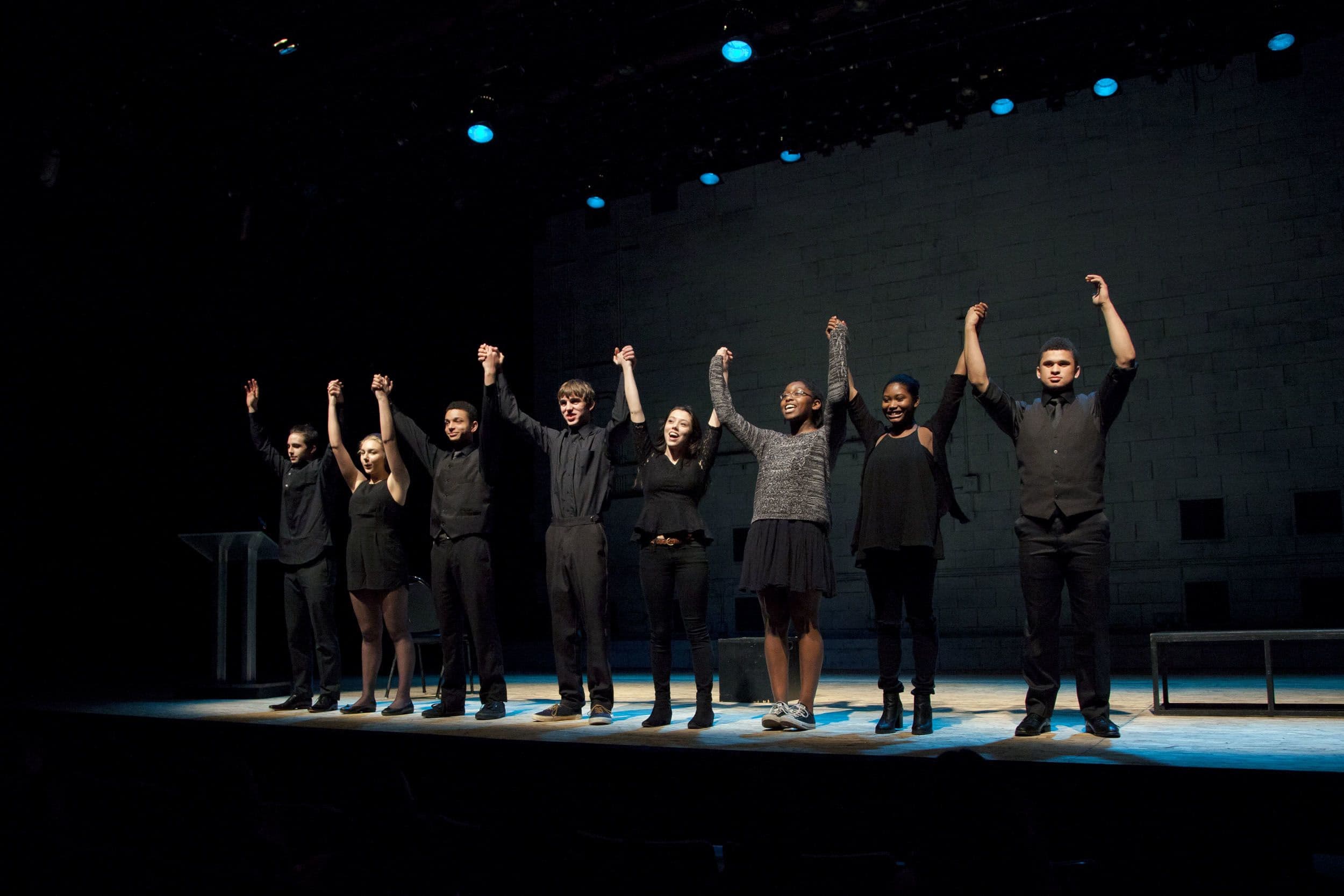 2016 AWMC Finals. Photo by Angela Nickerson.
Fifteen years after Seattle lost the preeminent playwright August Wilson, the stirring words of characters from his American Century Cycle still resonate in schools and theaters across our region and around the country, in part thanks to the August Wilson Monologue Competition.
Founded in 2007 by Kenny Leon and the True Colors Theatre Company, the August Wilson Monologue Competition (AWMC) is a national program that celebrates Wilson's works and inspires high school students to find and express themselves through theater. Over time it has expanded to 13 cities across the country. As one of Wilson's artistic homes, Seattle Rep was proud to begin hosting a regional competition in 2010. Ten years later, the Seattle program continues to reach over 800 students each year from 18 different schools throughout the region.
Led by Youth Engagement Manager Alex Lee Reed, the program offers young people a chance to connect with professional theater artists one-on-one, opens up access to our city's flagship regional theater, and invites them to perform on our main stage. The AWMC begins each fall as teaching artists hold introductory recruitment workshops in schools and lead free weekly coaching sessions at Seattle Rep and partner schools across the region. At the preliminary competition in January, students share their monologues in front of a panel of judges and a select few are chosen for the regional finals on one of Seattle Rep's professional stages in February. Finalists perform in front of an audience, and the top two competitors represent Seattle in the national competition at the August Wilson Theatre on Broadway.
While Wilson's incredible body of work enriches the understanding of students from all backgrounds, one particular goal of Seattle Rep's AWMC programming is to expand opportunities for students of color and offer them a place to learn about the Black experience in America. The competition—which is open to all students, regardless of race or ethnicity—continues to grow more diverse each year; 75% of the 2019 semi-finalists were young people of color.
2018 Finalist Jordan Davis-Miller. Photo by Angela Nickerson.
Reed's predecessor Jason Sanford, who was with Seattle Rep from 2016 to 2018, played a critical role in reevaluating our AWMC program strategy to reach more students of color, who historically have had fewer opportunities to engage with professional theaters. Sanford shares: "There were many times when I would go to a school with a high number of people of color, like Kent-Meridian High School for example, and the students had never heard of August Wilson." For Sanford, the impact of sharing Wilson's words and works with young people of color was tangible and inspiring. "These students now had access to professional resources and were equipped with the knowledge that an artist, who looked like them, had written material especially for them," he says. "They could claim ownership of an artistic pursuit in a way that they had likely never considered before."
Students of color who participate in monologue coaching sessions and the regional competition report that they have felt the deeply personal impact of Wilson's words firsthand. J'Dyn Plater, one of two Seattle representatives at the 2019 national competition, shared that "The best thing about the AWMC was that I got to learn about myself as an African American woman and about the African American experience…I could fully embrace who I was when I was saying August Wilson's words up on stage in front of an audience."
Follow the journey of Jason Sanford and our 2018 Finalists as they traveled to New York for the national competition.
As Sanford notes, the AMWC helps promote this sense of ownership and belonging in a meaningful way. Following the 2018 regional finals, he says, "I gathered the students for a group picture and one of them exclaimed, 'We just performed at Seattle Rep!'" That moment became one of his favorite memories of his time with the theater. "It was a reminder that Seattle Rep sparkles in the eyes of Seattle youth. It's an important cultural icon of the city and if we want it to continue being that, we need to live up to that responsibility."
As one of August Wilson's creative homes, Seattle Rep can live up to that responsibility by helping young performers stride confidently on to our stage, and speak the power of his words for the rest of the world to hear. Here's to another ten years.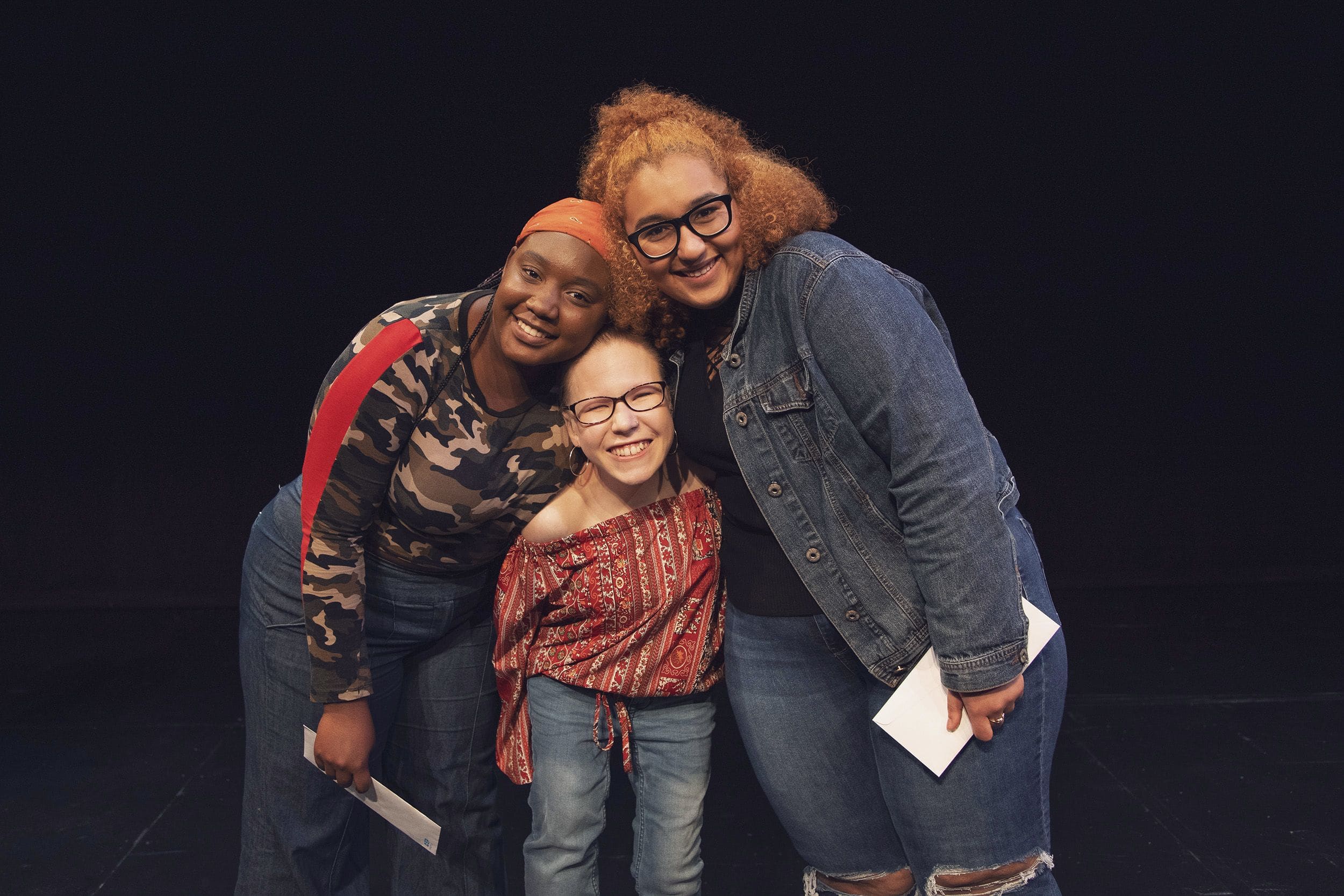 2020 AWMC Finalists from left to right: Asmian Obanion-White, Cassidy Huff, and Jade Sandoval. Photo by Angela Nickerson.
Cassidy Huff (Finalist) is a seventeen year old actress and singer-songwriter from Des Moines, Washington. Cass is a senior at Mt. Rainier High School. This is Cassidy's third year participating in the August Wilson Monologue Competition, and she's thrilled to be given the opportunity to work with Seattle Rep yet again!
Asmian Obanion-White (Finalist) is a junior at Rainier Beach High School. This is her first year in the August Wilson Monologue Competition. At school she is in drama club and is the choreographer for an upcoming competition. She has goals of attending college and becoming a criminal psychologist.
Jade Sandoval (Alternate) is a senior at Tumwater High School. Her future goals are to go to college and graduate with a BFA in acting and a minor in theater management. When she graduates college, her goal is to become an actress and one day open her own theater. In doing this, she wants to empower young actors and playwrights to step out of the box.