GET INVOLVED
Food & Mask Drive with WashMasks
From July 29–August 1, Seattle Rep is holding a Food & Mask Drive in partnership with WashMasks Mutual Aid to benefit local farmworkers who are in need of food and face masks, especially baby food and child-sized masks.
Drive Hours & Information
Wednesday, July 29 from 4:30-8:00 p.m.
Thursday, July 30 from 4:30-8:00 p.m.
Friday, July 31 from 4:30-8:00 p.m.
Saturday, August 1 from 11:00 a.m.-6:00 p.m.
We will be collecting items outside of Seattle Rep's Patron Services Office at 155 Mercer St. (at the corner of 2nd and Mercer) during these hours in the valet parking zone.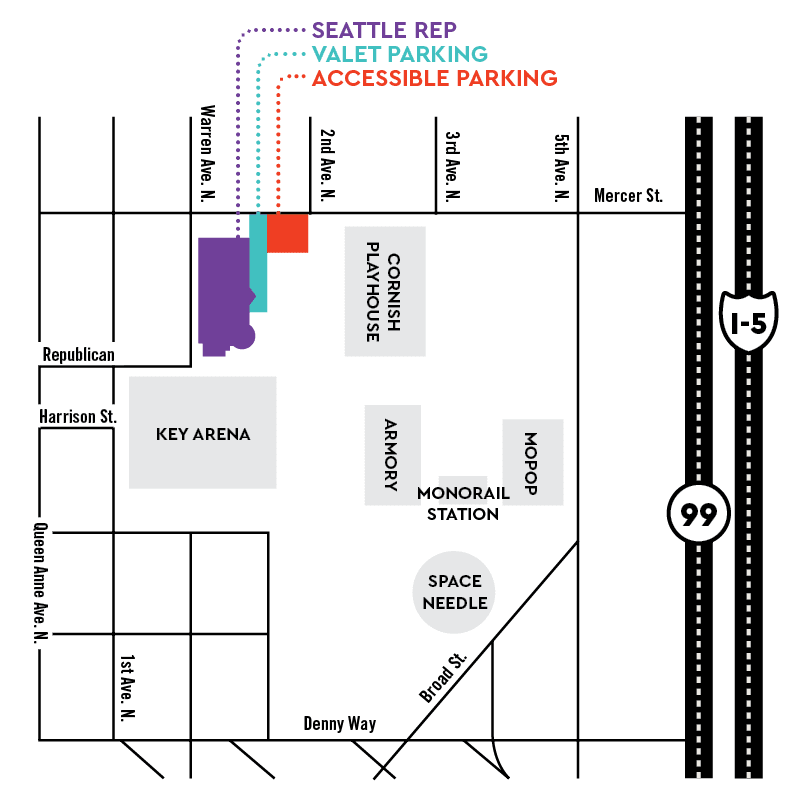 Important Details
In order to comply with social distancing measures, we ask that you please put all items in the trunk of your car to limit face-to-face interaction. Volunteers will remove items from your trunk—you don't even need to leave your car!
There will be a designated area for walk-up donations.
We are unable to accept items outside of the allotted drop-off times listed above.
We are unable to provide receipts for donated items.
Volunteer Information
Volunteers will be on site and masked, and all drop-offs will be contact-less and outdoors. If you are interested in volunteering, please sign up through the button below.
What Can I Donate?
Food Pantry Items
Boxes of cereal
Baby food
Toddler food
Canned food
Spaghetti
Spaghetti sauce
Oil
Tortillas
Beans
Lentils
Flour
Maseca
Oatmeal
Onions, Garlic, or Potatoes (fresh)
Hygiene Products
Diapers
Feminine napkins or tampons
Deodorant
Shampoo/Body Wash/Conditioner
Masks
Please use two layers of cotton, rectangular-style with ties (please no elastic ties or ear loops). These masks need to be washable and wearable with various sun gear (sunglasses, hats, etc.). Child sizes (for 10 and under) are very much needed. For mask patterns and specifications visit https://www.washmasks.org/
About WashMasks Mutual Aid
Migrant workers are essential workers who are exposed to high-risk conditions due to lack of PPE masks being made available to them. Every meal we eat is made possible by farm workers who work regardless of heat, cold, rain, snow, and now a pandemic.
This mutual aid initiative consists of classroom teachers, public school administrators, and arts educators from across Washington state, who are on a mission to collect and distribute masks for the migrant communities we work within and care deeply about. We believe that this community deserves support, dignity, and advocacy.