Article
Sam Shepard: "The Existential Cowboy"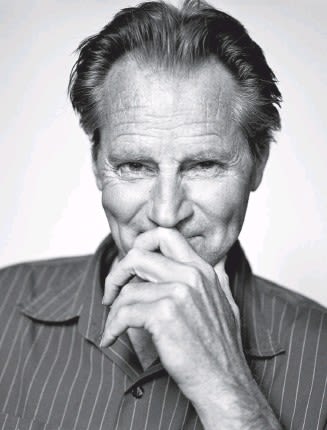 Samuel Shepard Rogers III, better known as Sam Shepard, was born on November 5, 1943 in Fort Sheridan, Illinois, but grew up in Duarte, California on his family's avocado farm. The oldest of three siblings, Shepard's childhood was spent regularly on the move as his father was in the military. His father struggled with alcoholism and regularly had devastating altercations with his son, creating a tense environment at home. During his high school years, Shepard began acting and writing poetry. As he grew older, Shepard was inspired by jazz music and the works of playwright Samuel Beckett. Eventually, he moved to New York to pursue his own artistic ambitions.
Starting out, Shepard wrote a number of avante garde one-act plays for Off-Off- Broadway theaters, which quickly led to his notoriety as a provacative playwright and a rise in his work's popularity. Between 1966 and 1968, Shepard won six Obie (Off-Broadway Theater) Awards for his plays.
Shepard had a number of adventures throughout his younger life. He went on tour with Bob Dylan, where he met and had a fleeting romance with Joni Mitchell. He had a highly-publicized affair with musician Patti Smith, with whom Shepard was friends until his death. While in London, Shepard was given character-writing advice by renowned theater artist Peter Brook. He was on friendly terms with The Rolling Stones.
Over the span of 50 years, Shepard wrote more than 55 plays, and was also well-known for roles in film and television. Notable acting roles include starring in Days of Heaven (1978), Resurrection (1980), his Oscar-nominated turn as Chuck Yeager in The Right Stuff (1983), the film version of his play Fool for Love (1986), Steel Magnolias (1989), The Good Old Boys (1995), Pelican Brief (1993), and Black Hawk Down (2001). Shepard was also a director, prose-writer, and teacher.
A very private person, Shepard tried to keep his celebrity life out of the public eye. He even kept his diagnosis of amyotrophic lateral sclerosis (ALS, also known as Lou Gehrig's disease) to himself. He lived a quiet life with his partner, actor Jessica Lange, for 26 years until he died from complications of the disease on July 27, 2017 at the age of 73 in his home in Kentucky. His final work, the novel Spy of the First Person, was released posthumously and centered on the reflections of a dying man.
Notable Plays
The Tooth of Crime (1972)
Curse of the Starving Class (1978)
Buried Child (1978)
True West (1980)
Savage/Love (1981)
Fool for Love (1983)
A Lie of the Mind (1985)
Sources