Behind The Scenes
A Visual Guide: Creating the Mural Art and Scenic Design of I Am Not Your Perfect Mexican Daughter
Throughout the busy holiday season, the cast and crew of the West Coast premiere of I Am Not Your Perfect Mexican Daughter—by Isaac Gómez and based on the best-selling YA novel by Erika L. Sánchez—are preparing to bring this thrilling story to life. Did you know for many artists working on this show, it's their first time working in the Pacific Northwest? We're ecstatic to share our stage with artists from Chicago, California, and various areas in the PNW!
With less than one month until first preview, check out the visual process of scenic designer Efren Delgadillo Jr., who is excited to share the behind-the-scenes magic of narrator Júlia's world, a celebration of Mexican American communities across the country. Also learn about the inspiration from muralist Joseph Perez (also known as Sentrock).
MEET EFREN DELGADILLO JR.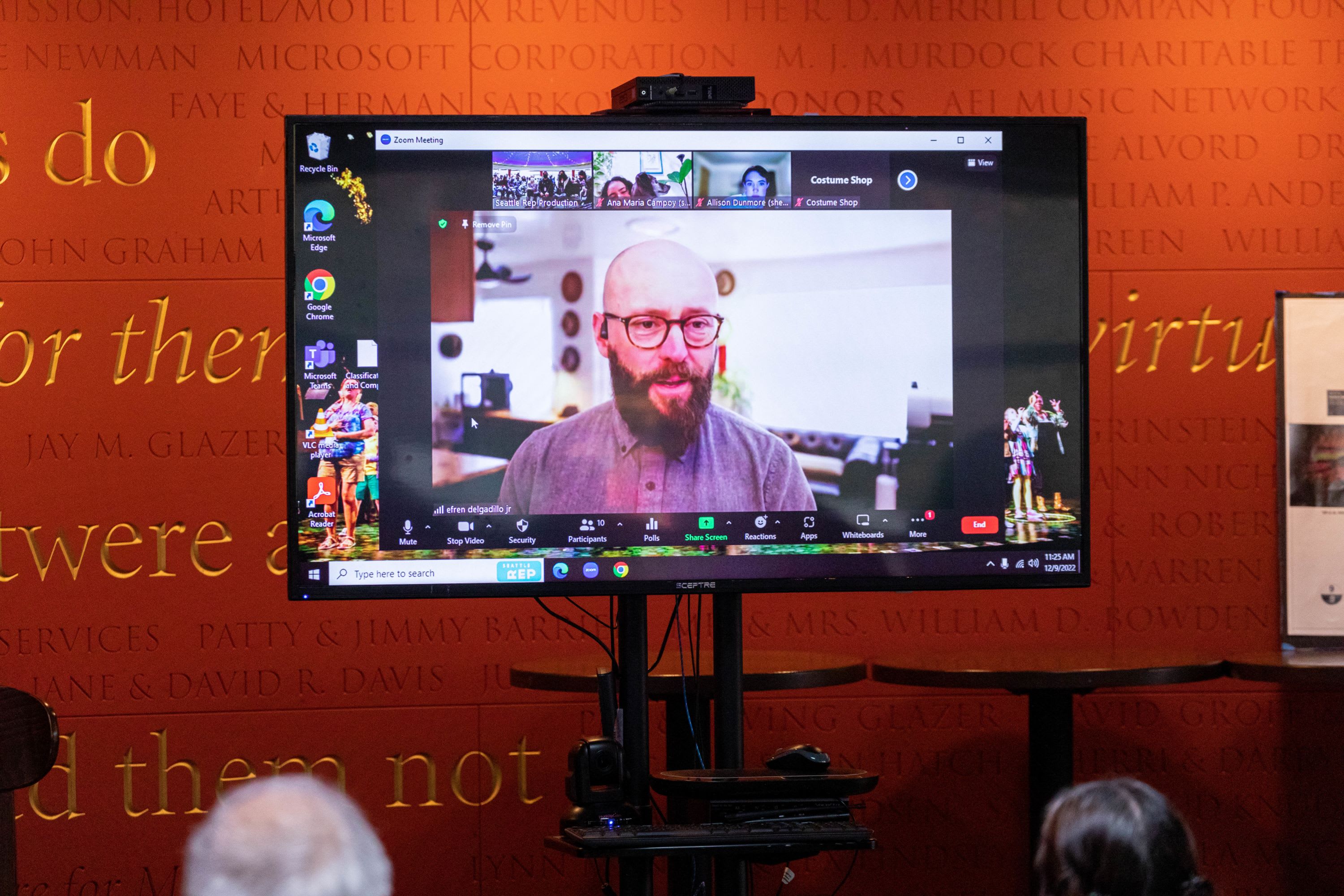 Joining from Southern California through the magic of Zoom, scenic designer Efren Delgadillo Jr. shared his artistic vision for I Am Not Your Perfect Mexican Daughter during an internal design presentation. To share Júlia's stories, "my mind went to images of installation artists and muralists."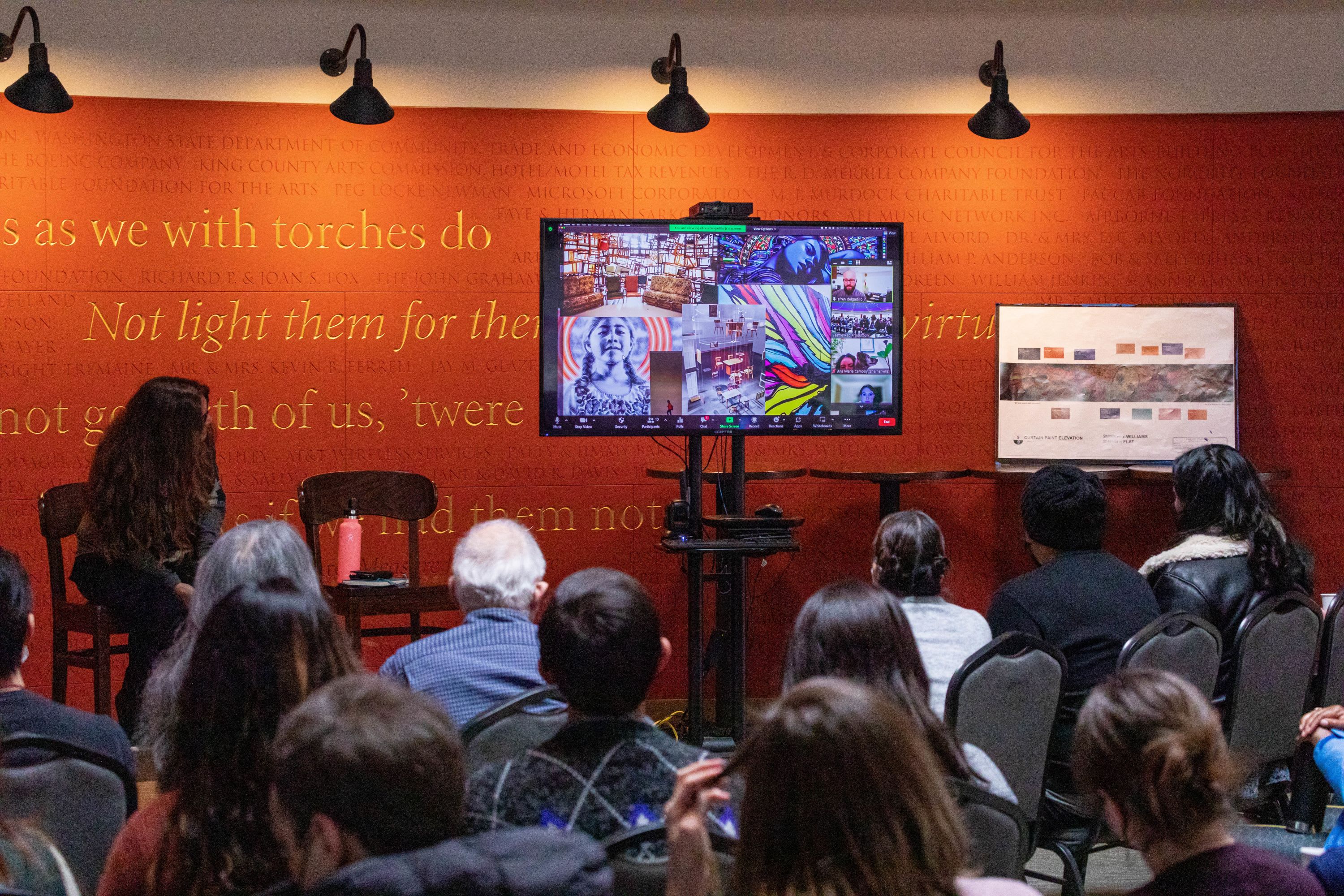 During the research phase, several murals spoke to Efren. "I love the picture in the center about memory not having gravity and also being chaotic," pointing with his clicker to the floating furniture in space. An important element to the play and setting the scene.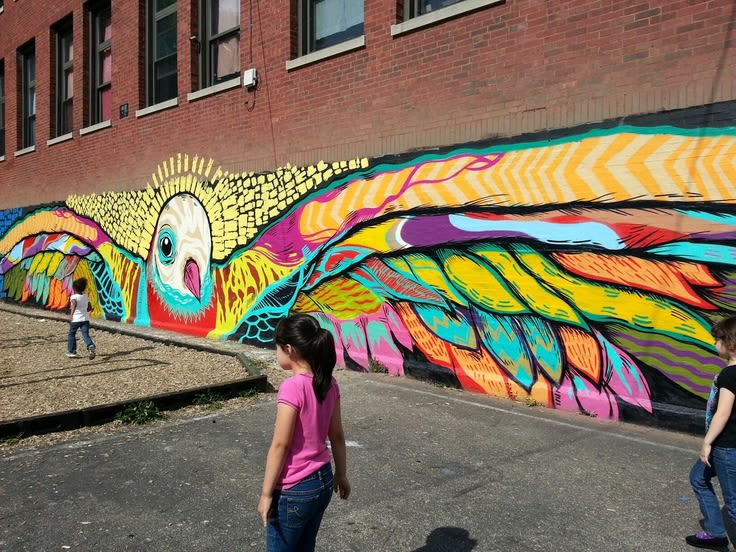 A mural by Sentrock in the Little Village Neighborhood, Chicago, the inspiration for the scenic design of I Am Not Your Perfect Mexican Daughter at Seattle Rep.

A specific muralist, stood out to Efren: Joseph Perez, also known as "Sentrock," a self-taught street artist. While seeing a mural by Sentrock in a small neighborhood depicting a woman, "I was thinking what if female presence was more poetic. What if it was Júlia at an early age? I'm excited to design a container that contains Júlia's imagination, memories, culture, and spirit of Chicago."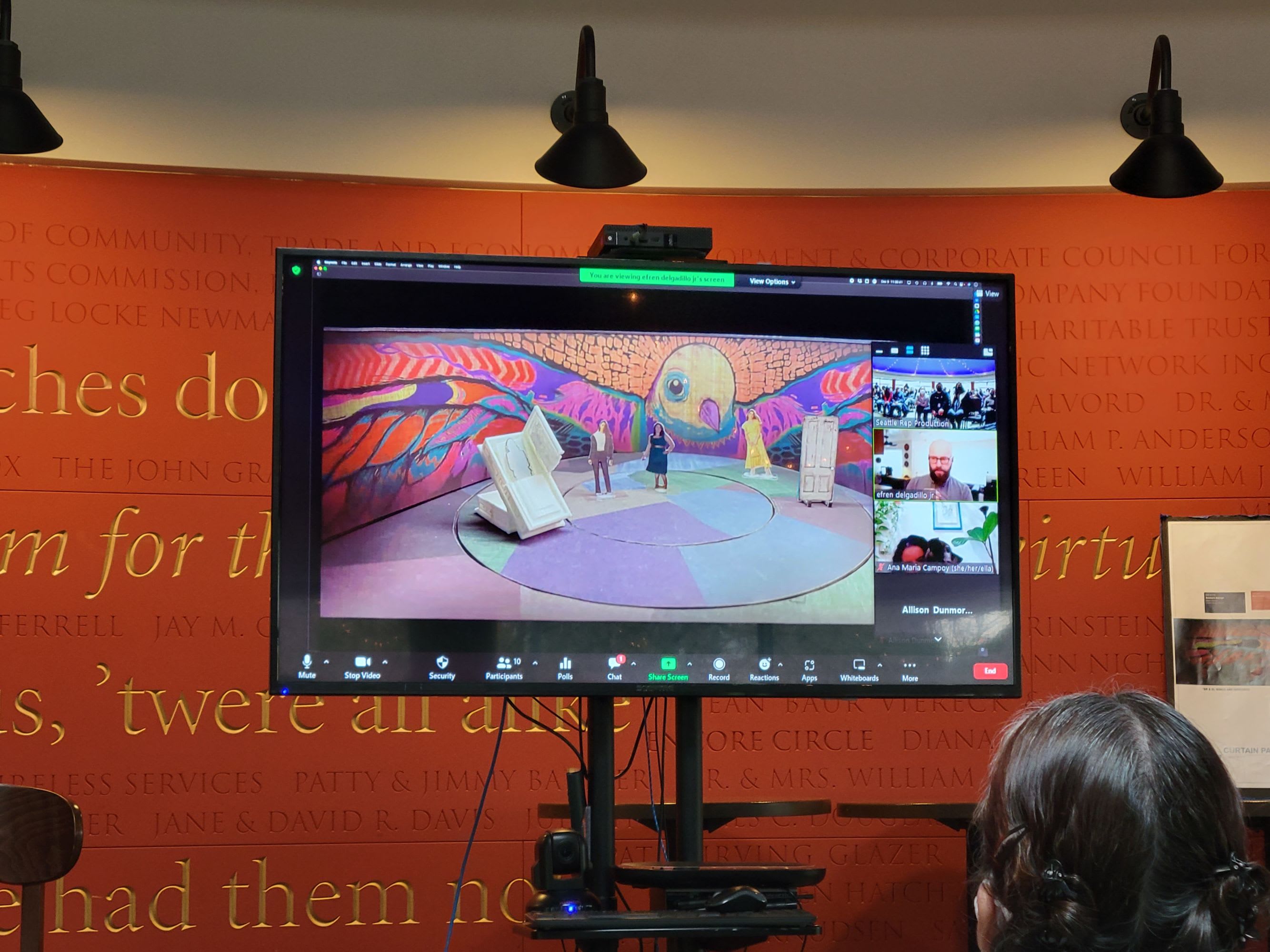 Falling in love with the mural, Efren commented on how this mural felt like Júlia's world. "We went with a less saturated version to allow costumes to really pop. The two turn tables are a big mechanism in capturing Júlia's psychic; speed up time, slow down time, kind of disorient, and enhance with movement. There is a lot of composition of physicality" and opportunities for the actors to play.
One of the many people to make this mural recreation possible is Ruth Gilmore, Seattle Rep's Charge Scenic Artist, and Seattle Rep's incredible team of scenic artisans.

DID YOU KNOW?
The inner turn table is 11 ft.
The outer turn table is 9.6 ft.
The mural is painted on a bamboo curtain; it's 12ft. tall and 80 ft. wide, covering the entirety of the Bagley Wright stage.
Lily Noto, 2022/23 PATP Paint Apprentice
BRINGING THE MURAL TO LIFE
1) LAYING OUT THE COLOR PLAN
Make a less saturated version come to life with a color plan. Knowing what type of paint to use is crucial!

2) GLUING EACH BAMBOO STRING INDIVIDUALLY
Each strand of bamboo is only 6 feet tall so each strand must be glued together individually to make a 12-foot-tall curtain. The artisans are incredibly creative and patient! Not to mention waiting for the glue to dry.
3) COLOR THE OUTINES
Placing an outline on the back of the curtain makes it easier to know what colors to use and see if the images are transferring properly. Think of a "paint by numbers" art project!
4) ALL HANDS ON DECK
In addition to learning more about mural artists, "I also went to installation artists. This curtain is painted on a bamboo curtain so the actors can appear anywhere and exit anywhere, because I was thinking of memory and how it doesn't have any gravity to it." —Efren Delgadillo Jr., Scenic Designer
5) SPRAY PAINT
Spray paint can sometimes be easier to maneuver and works well to fill in smaller details. Can you guess how many cans we've gone through on this scenic design?
6) ALMOST HALF WAY DONE
Experience this breath-taking work of art at the West Coast premiere of I Am Not Your Perfect Mexican Daughter, on stage beginning January 13, 2023 at Seattle Rep.
GET TO KNOW THE SCENIC DESIGNER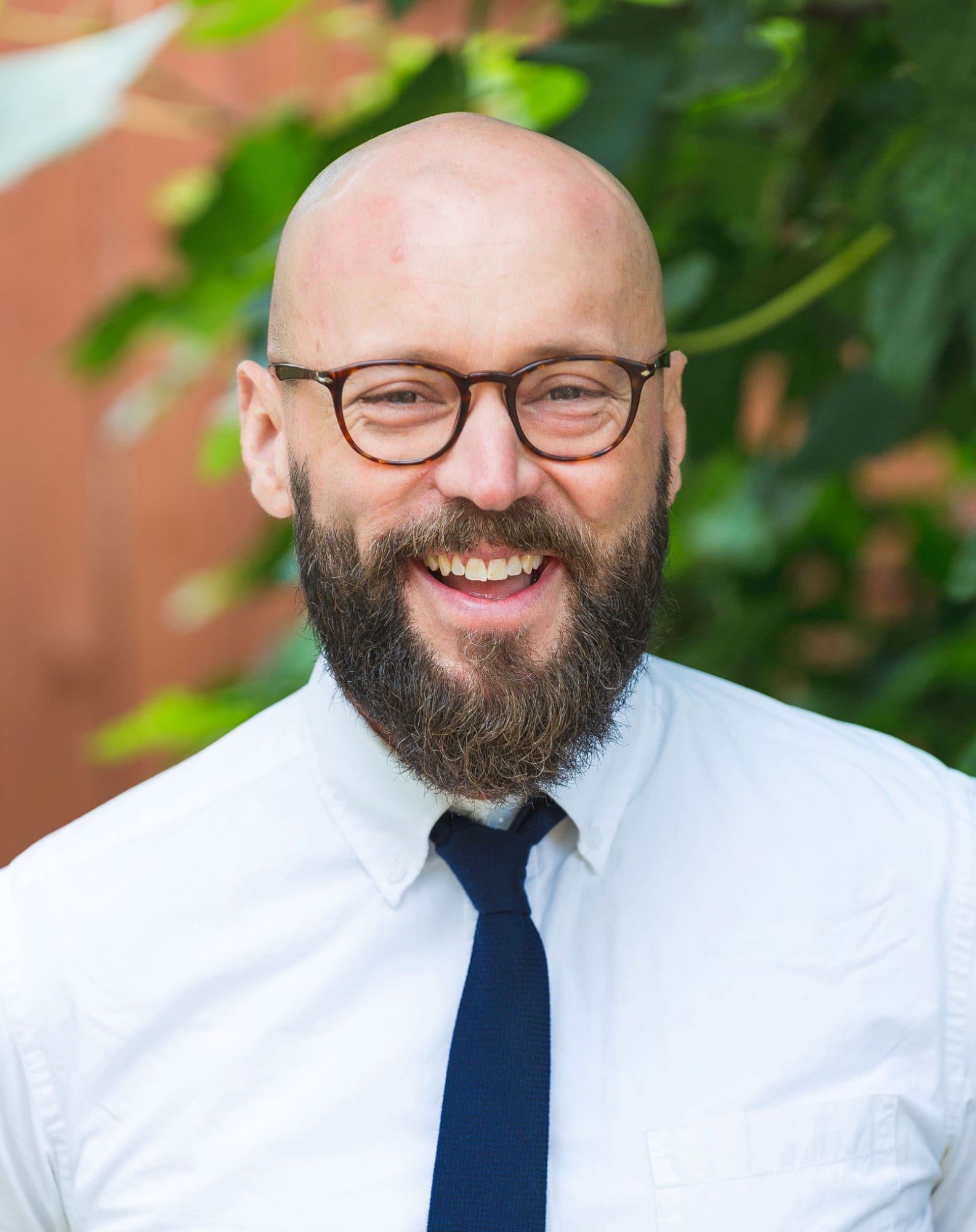 First season with Seattle Rep. New York: The Three Musketeers (The Acting Company); Mycenaean (BAM, Brooklyn Academy of Music). Notable regional theater productions include American Mariachi (South Coast Rep, Arizona Theatre Company); Romeo and Juliet (Oregon Shakespeare Company); BLKS (Woolly Mammoth); Bordertown Now (Pasadena Playhouse); Smart People, Quixote Nuevo, In The Upper Room, and Indecent (Denver Center for the Performing Arts); Othello (Hartford Stage); Mojada: A Medea in Los Angeles (The Getty Villa/Boston Court); Prometheus Bound (The Getty Villa/Center for New Performance). M.F.A.: California Institute of the Arts. B.F.A. in Studio Arts from University of California, Irvine. Efren is an Assistant Professor of Scenic Design at UC Irvine. efrendelgadillojr.com, @fren.delgadillo.jr
GET TO KNOW THE MURALIST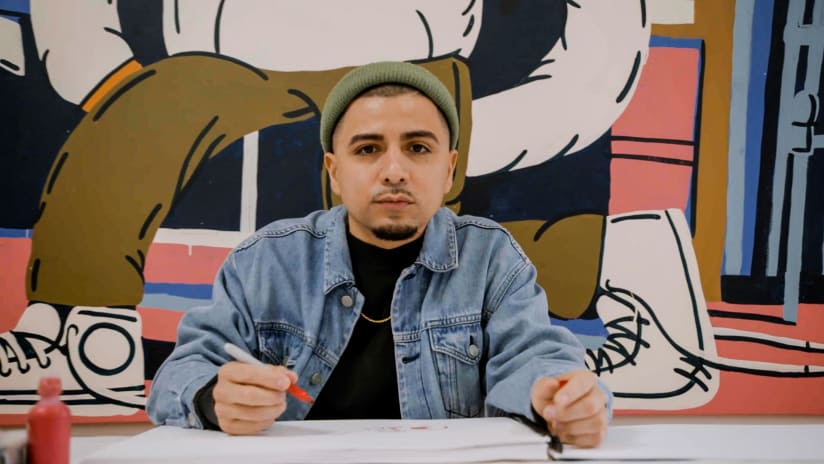 Joseph Perez, best known as "Sentrock" is a self- taught street artist. Sentrock witnessed street art as a form of expression, birthing his interest to pick a spray can and continue his artistic voice. His early works were developed from graffiti writing in Mexican American neighborhoods. Sentrock's signature bird-mask over a human figure has become his most recognizable declaration. Sentrock describes his bird-mask as analogous to humanity: a person who is able to find or escape to their freedom by placing them in a different reality. Through his work, he has become a catalyst for his community. His work presents undertones of hope, freedom, and expression. His work encapsulates his background, history, upbringing, empathy, and compassion for his community.