Timeline of Dicken's Works
A Brief Rundown of Dickens' Works
The holiday season is here and so is Mr. Dickens and His Carol! This new comedic holiday classic set in Victorian England is not a show you want to miss!
Charles Dickens is regarded as the grandfather of Christmas – did you know he wrote other novels outside of the beloved Christmas classic? Learn more about one of the greatest novelists of the Victorian era by checking out A Brief Rundown of Dickens' Works.
1) Pickwick Papers (published from April 1836 to November 1837)
"Happy, happy Christmas, that can win us back to the delusions of our childish days; that can recall to the old man the pleasures of his youth; that can transport the sailor and the traveller, thousands of miles away, back to his own fireside and his quiet home!" —The Pickwick Papers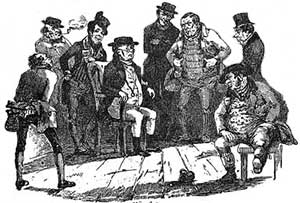 About: The Pickwick Papers follow Samuel Pickwick and some of the members of The Pickwick club as they travel throughout England and record their experiences for the rest of The Pickwick Club.
2) Oliver Twist
 (serialized from February 1837 to April 1839)
An iconic piece for many. It was one of the first books to include murder and crime, and it spoke about these topics without a soft landing.
"'Oh, don't tell me you are going to send me away, sir, pray!' exclaimed Oliver, alarmed at the serious tone of the old gentleman's commencement! 'Don't turn me out of doors to wander in the streets again. Let me stay here, and be a servant. Don't send back to the wretched place I came from. Have mercy upon a poor boy, sir!'" —Oliver Twist 
3) Nicholas Nickleby
 (published
from April 1838 to October 1839)
Did you know Dickens and illustrator Hablot Knight Browne traveled to various boarding schools in Yorkshire for novel research?
4) The Old Curiosity Shop
 (a weekly serial in 
Master Humphrey's Clock
magazine
, April to February 1841)

Follows a young orphan named Nell Trent who lives with her grandfather in his old antique shop. After being evicted, they go on a journey throughout England.
5) Barnaby Rudge
(published in weekly installments from February - November 1841)
Did you know Barnaby was Dickens' first historical novel?
6) Martin Chuzzlewit
 (published from January 1843 to July 1844)
Do you remember the word "Chuzzlewit" from our post about 7 Dickensian Words You Should Know? If not, check it out! And if you do, you're ahead of the game!
7) A Christmas Carol
(published on December 1843)
Did you know it only took Dickens six weeks to write this holiday masterpiece? This book follows famous miserly protagonist Ebenezer Scrooge (see Mr. Dickens and His Carol for a comedic twist on this classic character).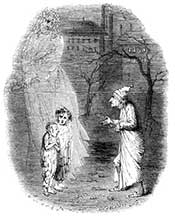 Ignorance and Want by John Leech, illustrated for A Christmas Carol
8) Dombey and Son (serialized from October 1846 to April 1848)
"All the housemaid hopes is, happiness for 'em – but marriage is a lottery, and the more she thinks about it, the more she feels the independence and the safety of a single life." —Dombey and Son
Today we have episodes of TV. In Dickensian times, a new novel would typically be sold in monthly installments. Up to 34,000 installment copies of Dombey and Son were sold each month!
9) David Copperfield
 (published from May 1849 to November 1850)
"Even now, famous and caressed and happy, I often forget in my dreams that I have a dear wife and children; even that I am a man; and wander desolately back to that time of my life."
This is the first novel Dickens wrote in first person. There are some references to Dickens' own personal life throughout novel, specifically the social injustices between classes, injustices toward women, and debtors' prison.
10) Bleak House
 (published monthly from March 1852 to September 1853)
Dickens used his background in being a law clerk and knowledge about the court system for this novel.
11) Hard Times
 (came out weekly in 
Household Words
, April to August 1854)
Did you know Hard Times was the first novel Dickens published without illustrations? It is also the shortest novel written by Dickens.
12) Little Dorrit 
(
published monthly from December 1855 to June I857)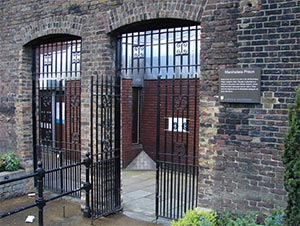 Dickens used the same prison where his father was imprisoned as the backdrop for this novel, which he mentions in the first chapter.
"Thirty years ago there stood, a few doors short of the church of Saint George, in the borough of Southwark, on the left-hand side of the way going southward, the Marshalsea Prison. It had stood there many years before, and it remained there some years afterwards; but it is gone now, and the world is none the worse without it." —Little Dorrit
13) A Tale of Two Cities
(
published weekly from April 1859
,
to November 1859
)
This novel contains one of Dickens' most popular lines of all time:
"It was the best of times, it was the worst of times…"
A glimpse of the original manuscript from this novel, located in the Victoria and Albert Museum in London.
14) Great Expectations
 (published weekly in
All the Year Round
, December 1860 to August 1861)
"In a word, I was too cowardly to do what I knew to be right, as I had been too cowardly to avoid doing what I knew to be wrong." —Great Expectations
Originally planned as a comedic novel, it became a darker novel as Dickens separated from his wife, Catherine, before completing it, amongst other familial strife.
15) Our Mutual Friend
 (shared monthly from May 1864 to November 1865)
Did you know Our Mutual Friend was Dickens' last completed work?
16) The Mystery of Edwin Drood (monthly numbers, April 1870 to September 1870, with six of twelve numbers completed)
Dickens passed away halfway through writing this novel. The story is a murder mystery in which Edwin Drood is supposedly murdered and suspicion is cast on his uncle. Don't worry, we won't spoil the rest for you!
Over the years, there have been many adaptations of Dickens' works, many of which you can check out through Seattle Public Library's show-inspired reading and media list, including Samantha Silva's original novel, Mr. Dickens and His Carol, on stage Nov. 25 – Dec. 23, 2022 at Seattle Rep.