Seattle Public Library
(Re)Imagine Indigenous Theater Reading List
Librarians at Seattle Public Library put together a curated list of media to accompany our virtual (Re)Imagine Indigenous Theater panel, a part of our (Re)Imagine Theater panel series. Get ready for the conversation with these related books, plays, articles, and performances.
Though all Seattle Public Library locations are currently closed, learn about SPL's curbside pickup service.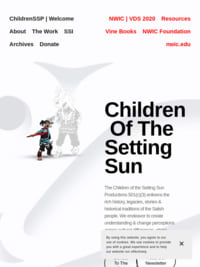 Children of the Setting Sun Productions
https://www.athe.org/page/indigenous_theater
Web Resource
Founded by Darrell Hillaire (Lummi), Children of the Setting Sun Productions is a multi-media, film, and theater arts production company specializing in Coast Salish storytelling.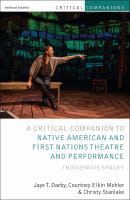 Critical Companion to Native American and First Nations Theatre and Performance
Indigenous Spaces
by Darby, Jaye T./Mohler, Courtney Elkin/Stanlake, Christy
Book - 2020
This anthology is "the first major survey book to introduce Native artists, plays, and theatres within their cultural, aesthetic, spiritual, and socio-political contexts." - Publisher's copy
The Edward Curtis Project
A Modern Picture Story
by Clements, Marie Humber
Book - 2010
Clements, a Métis playwright, and Leistner, a white photographer, collaborated on this unique blend of drama and photography that unpacks the complex legacy of Edward Curtis' photographs of North American Indigenous peoples.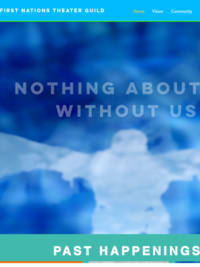 First Nations Theater Guild
https://www.firstnationstheaterguild.com/
Web Resource
Founded in New York City in 2018 by a small and passionate group of Indigenous artists, First Nations Theater Theater Guild is an organization for First Nations people by First Nations people in the arts.
Haboo
Native American Stories From Puget Sound
Book - 2020
Translated and edited by Upper Skagit elder Vi Hilbert, this new edition of 33 stories from the Lushootseed-speaking peoples of Puget Sound features a beautiful redesign and a new foreword by Jill La Pointe, Hilbert's granddaughter.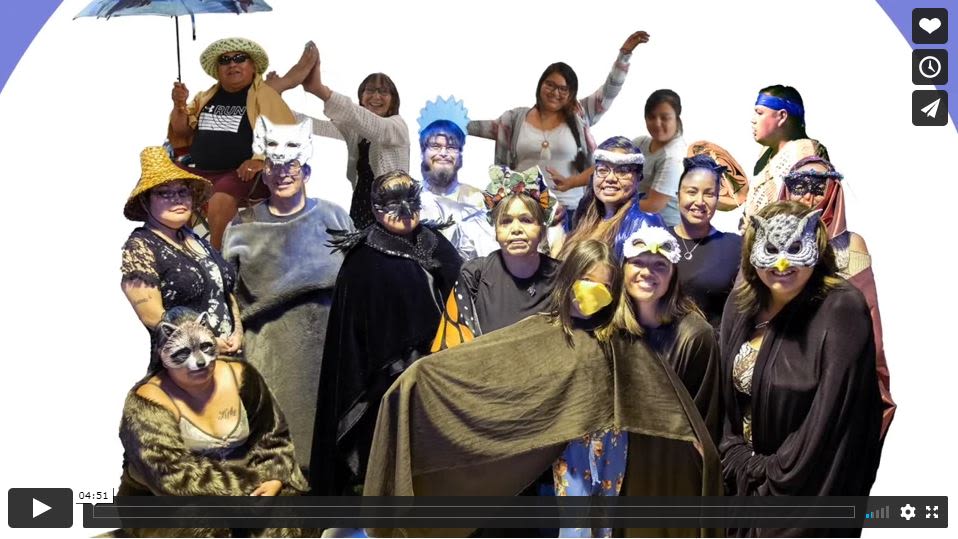 Hul'q'umi'num' Heroes Theater Project
https://vimeo.com/429437456
Web Resource
Hul'q'umi'num' Heroes is a collaboration between a University of Victoria theater professor and the Hul'q'umi'num' Language and Culture Society to help revitalize this endangered Coast Salish language among tribal members..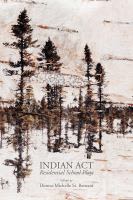 Indian Act
Residential School Plays
by St. Bernard, Donna-Michelle (EDT)
Book - 2018
"Seven plays by contemporary First Nations and Métis playwrights cover the broad scope of residential school experiences, all kinds of characters, and no stereotypes, giving voice to those who could not be heard." - Publisher's copy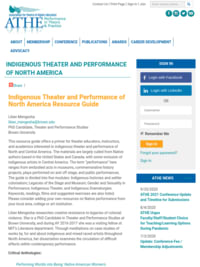 Indigenous Theater and Performance of North America Resource Guide
https://www.athe.org/page/indigenous_theater
Web Resource
This resource guide offers a primer for theater educators, instructors, and academics interested in Indigenous theater and performance of North and Central America.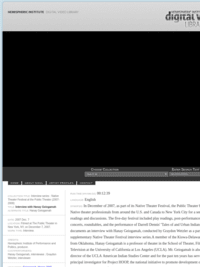 Interview with Hanay Geiogamah at the Native Theater Festival (2007-2008) at The Public Theater
http://hidvl.nyu.edu/video/003335393.html
Web Resource
This video documents an interview with Hanay Geiogamah (Kiowa-Delaware), a professor of theater in the School of Theater, Film and Television at UCLA, conducted by Graydon Wetzler as a part of a Native Theater Festival interview series in 2007.
Larissa FastHorse Presents at the 2019 Creative Capital Artist Retreat
https://vimeo.com/361327546
Web Resource
Award-winning playwright Larissa FastHorse (Sicangu Lakota) discusses Native Nation, a community-generated and -performed immersive theatrical experience created through radical engagement with the Lakota communities of South Dakota.
Native American Playwrights Practicing Public History: New Wave History Plays
https://ncph.org/history-at-work/native-american-playwrights-practicing-public-history/
Web Resource
In this post, Laurie Arnold (Sinixt Band, Colville Confederated Tribes) describes how Indigenous playwrights are remaking American theater with historical narratives that general audiences have either forgotten or never learned.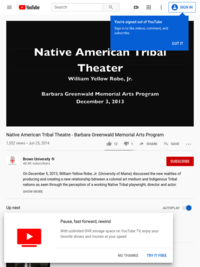 Native American Tribal Theatre -- Barbara Greenwald Memorial Arts Program featuring William Yellow Robe, Jr.
https://www.youtube.com/watch?v=mMbo4xHWY6I
Web Resource
On December 5, 2013, William Yellow Robe, Jr. (Assiniboine) discussed producing and creating a new relationship between a colonial art medium and Indigenous Tribal nations from his perspective as a Native playwright, director and actor.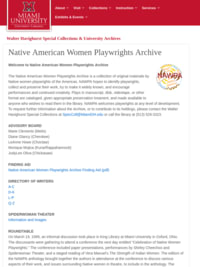 Native American Women Playwrights Archive
https://spec.lib.miamioh.edu/home/nawpa/
Web Resource
The Native American Women Playwrights Archive is a collection of original materials by Indigenous women playwrights of the Americas. It is housed in Walter Havighurst Special Collections at Miami University in Oxford, Ohio.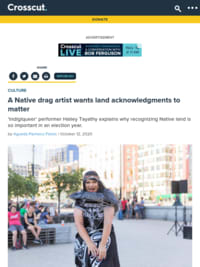 A Native Drag Artist Wants Land Acknowledgements To Matter - Crosscut
https://crosscut.com/culture/2020/10/native-drag-artist-wants-land-acknowledgments-matter
Web Resource
Seattle-based Indgiqueer drag performer and fiber/visual artist Hailey Tayathy (Quileute) discusses their work and the importance of meaningful land acknowledgments in this interview with local news nonprofit Crosscut.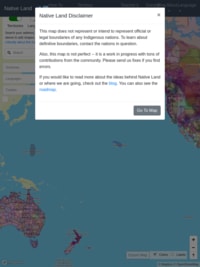 Native Land Mapping Project
https://native-land.ca/
Web Resource
Learn whose land you inhabit with this interactive virtual map that shows the traditional lands and territories of Indigenous peoples worldwide. This website is run by Native Land Digital, an Indigenous-led nonprofit based in Canada.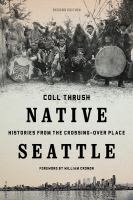 Native Seattle
Histories From the Crossing-Over Place
Book - 2017
This history of Seattle's Indigenous communities documents the experiences of the Duwamish and other Native inhabitants of this land from before white settlers arrived to the present day. Includes an atlas mapping over 100 Indigenous place names.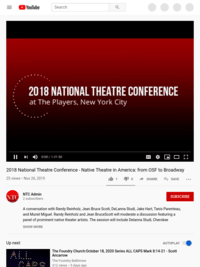 Native Theatre in American: From OSF to Broadway at the 2018 National Theatre Conference
https://www.youtube.com/watch?v=WGcKIK4vXJI
Web Resource
This panel discussion at the 2018 National Theatre Conference featured prominent Indigenous theater artists including DeLanna Studi (Cherokee), Jake Hart (Blackfeet/Cherokee), Tanis Parenteau (Cree/Métis), and Muriel Miguel (Kuna/Rappahannock).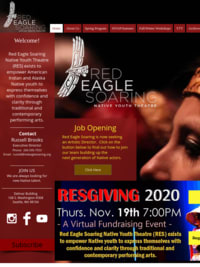 Red Eagle Soaring
https://www.redeaglesoaring.org/
Web Resource
Since 1991, Red Eagle Soaring has mentored hundreds of Native youth, staged over 170 productions, and supported youth access to the healing power of Native cultural traditions which promote social, physical, and intellectual engagement.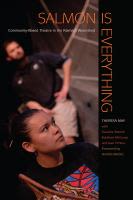 Salmon is Everything
Community- based Theatre in the Klamath Watershed
by May, Theresa J.
Book - 2014
After a devastating fish kill on the Klamath River in 2002, members of the Yurok, Hoopa Valley, and Karuk tribes and playwright Theresa May collaborated on a play to give voice to the central spiritual and cultural role of salmon in tribal life.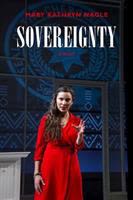 Sovereignty
A Play
by Nagle, Mary Kathryn
Book - 2020
Sovereignty, the latest work from playwright and attorney Mary Kathryn Nagle (Cherokee), reflects on Indigenous nations' struggles to enforce their own laws on their own land.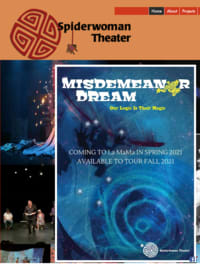 Spiderwoman Theater
https://www.spiderwomantheater.org/
Web Resource
Founded in 1976 by sisters and elders Muriel Miguel, Gloria Miguel, and Lisa Mayo (Kuna/Rappahannock), Spiderwoman Theater produces performances and offers theater training and education rooted in an urban Indigenous performance practice.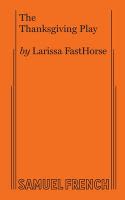 The Thanksgiving Play
A Play
by Fasthorse, Larissa
Book - 2019
This one-act satirical comedy follows three white thespians attempting to create a politically correct First Thanksgiving play for Native American Heritage Month.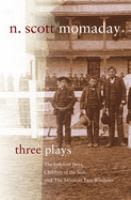 Three Plays
The Indolent Boys, Children of the Sun, and the Moon in Two Windows
by Momaday, N. Scott
Book - 2019
From Pulitzer Prize-winning author Momaday (Kiowa) comes this collection of two never-before published plays and a screenplay that demonstrate his signature talent for interweaving literary and oral traditions.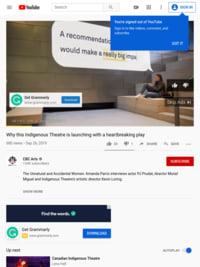 Why this Indigenous Theatre is launching with a heartbreak play -- CBC Arts
https://www.youtube.com/watch?v=VjOFCdnEOLE
Web Resource
First aired on September 26, 2019, this segment from CBC Arts describes the new Indigenous Theatre program at The National Arts Centre in Ottawa and the play kicking off their first season, Unnatural and Accidental Women by Marie Clements (Métis).