GET INVOLVED
Food+ Drive for Seattle Rep's Public Works Partners
We can't gather in-person right now for our Public Works workshops, potlucks, or field trips, but we are dedicated to supporting our community in this time of unprecedented health and economic strife. Seattle Rep is hosting a Food+ Drive to benefit our Public Works partner organizations who have currently expressed need for their communities: Compass Housing Alliance, Ballard Senior Center, Jubilee Women's Center, and Refugee Women's Alliance (ReWA).
How It Works:
If you are able to make a donation, small or large, we welcome you to join us during one of the following drop-off times:
Saturday, May 9 from 1-3 p.m.
Monday, May 11 from 9-11 a.m.
Tuesday, May 12 from 5-7 p.m.
We will be collecting items outside of Seattle Rep's Patron Services Office at 155 Mercer St. (at the corner of 2nd and Mercer) in the valet parking zone: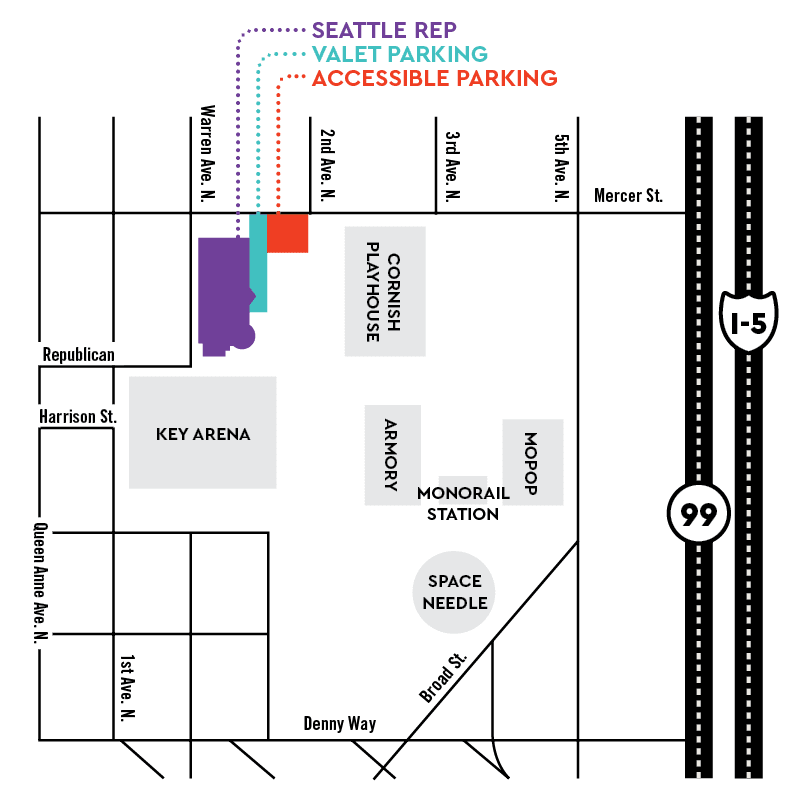 Important Details:
In order to comply with social distancing measures we ask that you please put all items in the trunk of your car to limit face-to-face interaction. Volunteers will remove items from your trunk—you don't even need to leave your car!
There will be a designated area for walk-up donations.
Due to Stay Home, Stay Safe policies, we will not be able to accept items outside of the allotted drop-off times listed above.
We are unable to provide receipts for donated items.
What Can I Donate?
Non-perishable, microwave friendly food, such as:

Canned soup
Canned chili
Ramen, Cup o' Noodles
Other canned food

General food items, such as:

Rice
Pasta
Pasta sauce
Mac & cheese
Applesauce
Juice
Crackers

Unused hygiene products, such as:

Deodorant
Toothpaste
Toothbrushes
Feminine hygiene products
Shampoo and conditioner
Lotion
Liquid or bar soap
Band-aids
Neosporin
Diapers (all ages)
Baby wipes

Cleaning supplies, such as:

Hand soap
Disinfecting wipes
Bleach
Face masks
Disposable gloves, extra large
Toilet paper
Paper towels or napkins

Kids/family activities, such as:

Coloring supplies (crayons, markers, colored pencils)
Activity workbooks and coloring books for all ages
Art kits
Play-Doh
Uno and other games
Decks of cards

Miscellaneous:

Bike helmets
Refurbished tablets or laptops with accompanying chargers
We are constantly amazed by the generosity of Seattle Rep supporters and know that our partner organizations will be immensely grateful for any and all donations.
Questions? Contact us.
Pictured: R. Hamilton Wright, Jeanne Paulsen, and Carmen Roman in The Children (2020). Photo by Nate Watters.