WATCH
Intermission Edition: Share Your Light Stories
Back when we made the heartbreaking decision to cancel the remainder of our 2019/20 season due to public health concerns, we asked artists, staff, and you, our patrons, to #ShareYourLight with us while our stages are dark. You all showed up in numbers, letting us know that Seattle Rep holds a special place in your lives and hearts. You are special to us, too, and we can't wait to welcome you back through our doors. This week, we are sharing just a few of the stories and favorite memories that came our way from artists, staff members, and friends of Seattle Rep.
Artist & Staff Stories
Patron Stories
"When I think about things in my life that I really treasure: friends, family, health, and happiness always come first. The season tickets I have had to the Seattle Rep since graduating college 40+ years ago are also on that list, as I have shared them with or they contribute to all of the above.
The pair of tickets I originally shared with a BFF from college grew to become a foursome when we both married. As newlyweds, we somehow managed to budget in preview night tickets. When kids came on the scene, it was our big 'date night' out and a bit stressful as we had to find a babysitter.
I've been privileged to see so many great performances and talented actors over the years, like Christopher Walken in October 1974's Hamlet; Keith Carradine, John Kellog, and Kate Mulgrew in 1981's Another Part of the Forest; 1991's Conversations with My Father with Judd Hirsch and Tony Shaloub; and Come From Away in 2015. My husband and I always looked forward to seeing Eve Roberts, Jeannie Carson, Biff McGuire, Eve Roberts, and R. Hamilton Wright—just to name a few—who appeared in so many memorable productions.
| | | |
| --- | --- | --- |
| Christopher Walken in Hamlet (1974). | John Kellogg and Kate Mulgrew in Another Part of the Forest (1981). | John Procaccino and Judd Hirsch in Conversations with my Father (1991). |
A final thought: We are SO lucky to have such quality arts venues here in Seattle. I have learned about history, politics, cultures, music, art, and more through the carefully curated seasons that Seattle Rep has offered for so many years. I look forward to when I can again enjoy that special treat called the Seattle Rep." —Norma R.
"I believe Come From Away was one of my first times at Seattle Rep. I got to experience this amazing story of the September 11th story not knowing much about it. What an amazing play! Of course I didn't have tissues with me, so I used my scarf to wipe my tears away. When I got home, I immediately told all of my flight attendant friends to SEE IT NOW. It was held over as word passed.
You see, I flew for United for 39 years. This play was very personal. It changed all of our jobs, mindsets, and hearts forever. It was a cathartic, joyful, very emotional, never-to-be-forgotten night. Needless to say, we are now regular Seattle Rep-goers." — Sue T.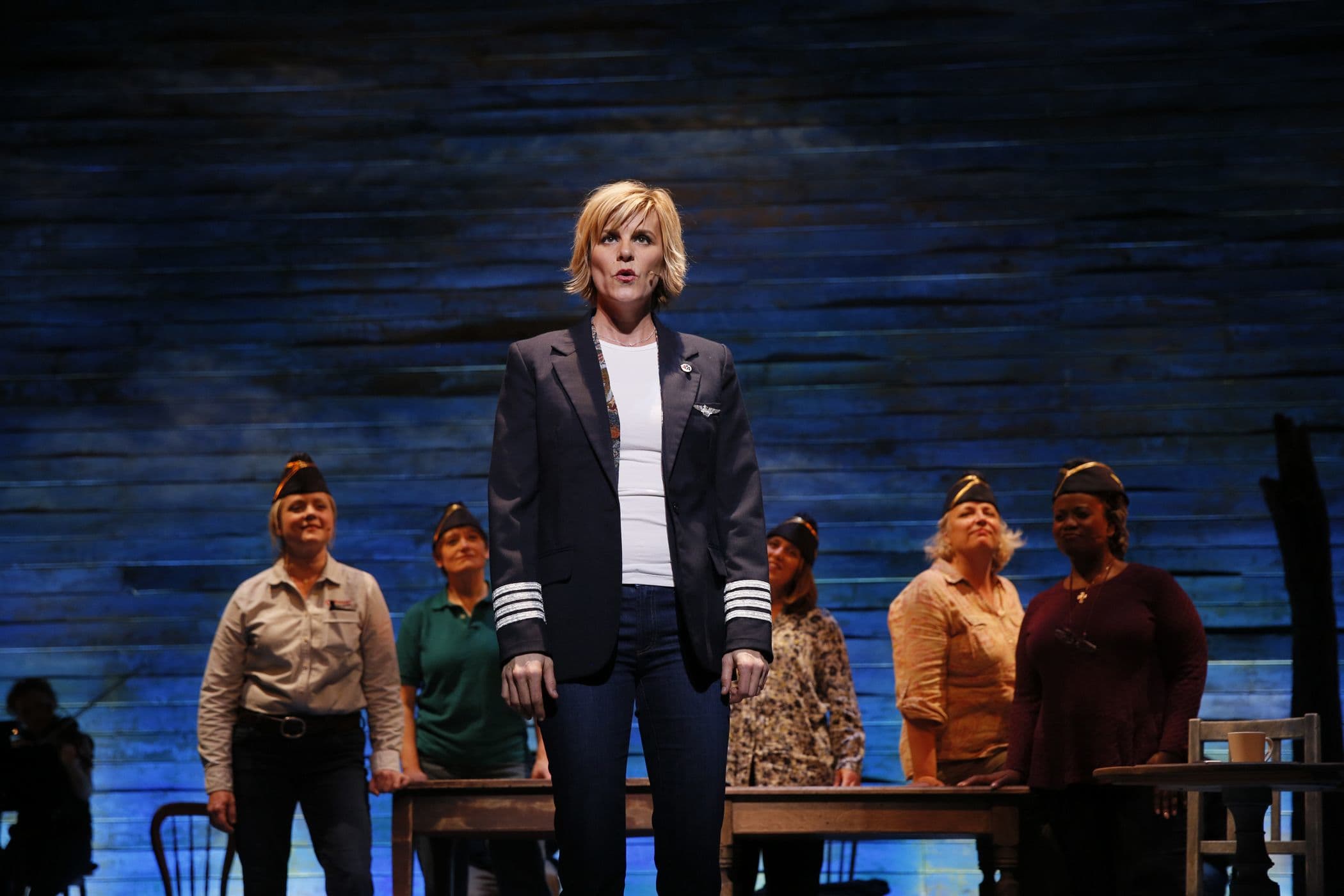 Jenn Colella and the cast of Come From Away at Seattle Rep (2018). Photo by Chris Bennion.