Seattle Rep's Apology to August Wilson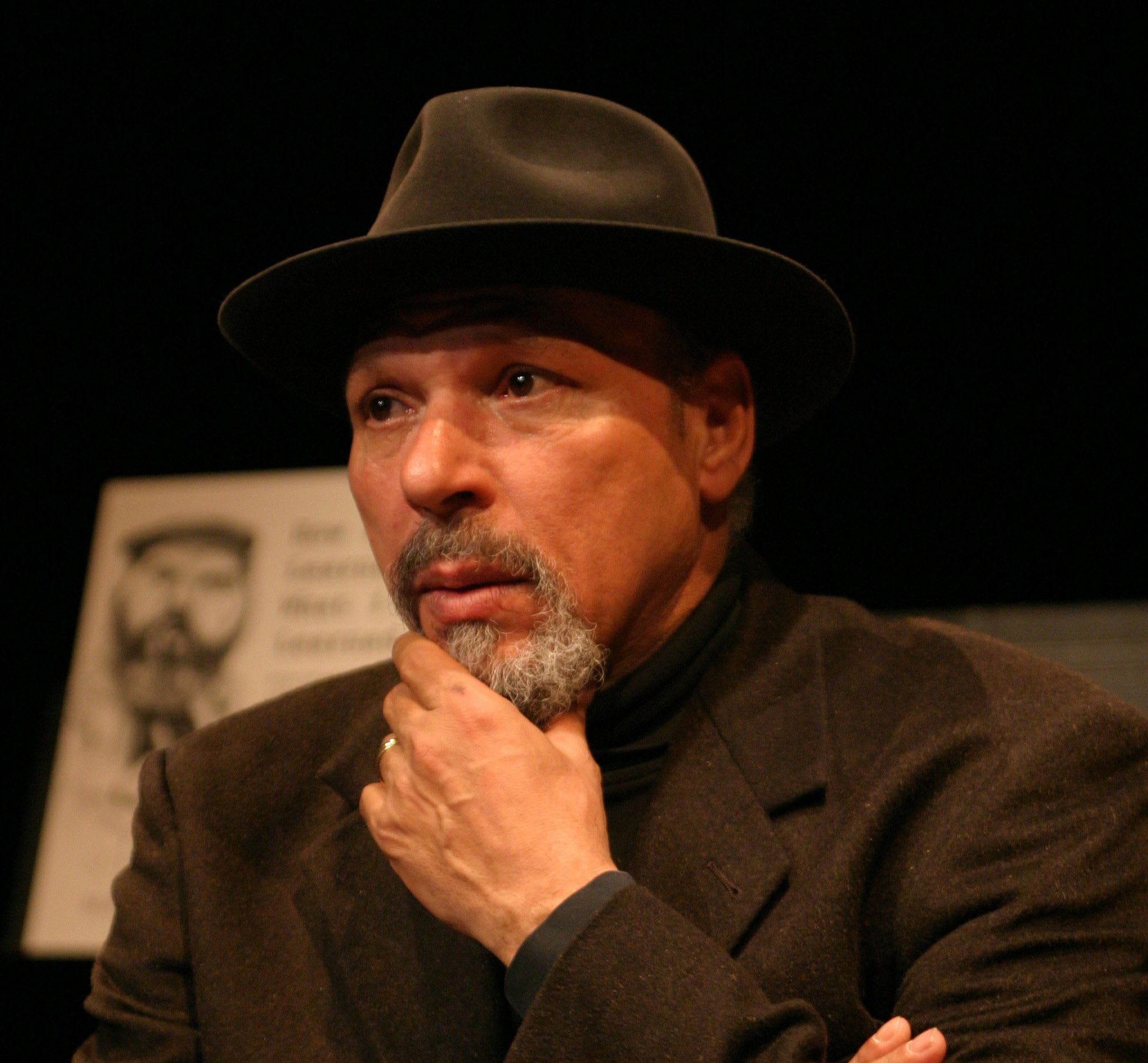 August Wilson in How I Learned What I Learned (2003). Photo by Seattle Rep.
Toward the end of his solo show, How I Learned What I Learned, August Wilson shares an instructive moment from his life that illustrates both the insidious effects of everyday racism, and the necessity of demanding respect in all areas of one's life. Mr. Wilson tells the story of a Los Angeles bank teller who racially profiled him as he tried to cash a check from the Mark Taper Forum. Suspicious of his Washington State ID, the teller makes a show of confirming its authenticity, while also asking her manager to watch the transaction. After a lengthy process, the teller finally cashes the check, and when Mr. Wilson asks for an envelope, she tells him: "We don't have envelopes at this bank." The story ends with Mr. Wilson returning to the same branch two weeks later, where a different teller cashes his check and hands him an envelope without an issue.
Reflecting on this moment in How I Learned…, Mr. Wilson says:
"See, [the bank teller] thinks that's a little thing. But it's not a little thing. She looked at a man and she said, 'This man does not deserve the same respect as other men deserve.' And that's the sin that caused slavery…Now I would like to tell you that when we came to this part in rehearsal, I would stop and talk about this envelope for like an hour. And someone said, 'August, man, what is it about the envelope? That's a little thing.' And I go, 'No, it's not a little thing.' You see, 'cause it's not about an envelope. I don't care anything about an envelope. I got lots of envelopes. It's about R-E-S-P-E-C-T. See when I taught my course at Dartmouth I told my students, 'Demand respect from everyone. The government, your schools, your church, your parents, your lover, yourself. Demand respect. If it costs you your life then you have lived a good life and died an honorable death. Demand respect.' It's not about an envelope. It's about P-R-I-N-C-I-P-L-E-S. Principles by which I have lived my entire life."
But this story about an envelope was not always in How I Learned…. Instead, in his original 2003 performance at Seattle Rep, Mr. Wilson used a similar incident of disrespect, one that was not perpetrated by an unnamed bank teller, but instead by Seattle Rep itself.
In 2003, then Artistic Director Sharon Ott offered Mr. Wilson a spot in the theater's new play festival to develop and present his one-person show, which Mr. Wilson had been working on for several years. Months before the premiere, Mr. Wilson was told that there would be a poster created for the event. He provided Seattle Rep with a caricature of himself to be used in the design, but the artist could not be identified or credited. The theater offered to have another artist create a new image for the poster instead, and Mr. Wilson agreed. But Seattle Rep never made a poster for How I Learned What I Learned. And when Mr. Wilson inquired about the poster closer to the start of performances, Seattle Rep told his assistant that no poster had been made and that it wasn't in the budget.
So, Mr. Wilson put the incident in his show.
In the penultimate section, Mr. Wilson described the prior communication with Seattle Rep about a poster design for the show, and then turned to a music stand with the original caricature on it. "So, this is my idea of a poster," Mr. Wilson said. Then he pointed to an empty music stand next to it. "And this is Seattle Rep's idea of a poster." Mr. Wilson then went on to describe how he talked about this poster for hours in rehearsal, ending with this line: "No, that's not a little thing. And it's not about the poster. It's about P-R-I-N-C-I-P-L-E, by which I have lived my entire life."
To Mr. Wilson's dismay, Seattle Rep failed to acknowledge or apologize for this incident, throughout rehearsals, previews, and performances. The Rep's disrespectful actions were all the more painful since Mr. Wilson lived in Seattle and the theater itself had become a home for some of the plays in his groundbreaking American Century Cycle. In fact, How I Learned… was Mr. Wilson's last project with Seattle Rep, as he passed away two years later in 2005.
In preparing the text of How I Learned… for its 2013 production at Signature Theatre in NYC, Mr. Wilson's widow and executor of his estate, the costume designer Constanza Romero, and the director, Todd Kreidler, had to decide whether to include this story. In the 2003 production at Seattle Rep, Mr. Wilson had alternated between a few different stories that illustrated the disrespect and racism that he had experienced in life and in the American theater. It was decided that the story about the bank teller would go in the published performance text, but Ms. Romero has always felt a lack of closure and sadness that this was one of Mr. Wilson's last experiences with Seattle Rep.
Seattle Rep remains proud of our deep history with August Wilson, and grateful that we were one of the many theater organizations around the U.S. where he decided to make his artistic home. But that is not to say that Seattle Rep has always made the right choice or that we were flawless in the ways that we supported Mr. Wilson. We are sorry that this incident marred Mr. Wilson's last interaction with Seattle Rep, and we feel that it is important to publicly acknowledge the ways in which we failed Mr. Wilson during the time we had to collaborate with him, especially in this moment, as we are presenting How I Learned What I Learned twenty years after its premiere.
We did not live up to our principles in 2003. By denying Mr. Wilson a poster, Seattle Rep joined a long line of predominantly white institutions who say, in public, that they support Black artists, but then fail to actualize that support, even when told by the artists exactly what they need. By denying Mr. Wilson a poster, Seattle Rep engaged in the same behavior as that bank teller in Los Angeles. We determined that Mr. Wilson did not deserve the same respect as the artists in our mainstage season.
Seattle Rep apologizes to August Wilson and to Constanza Romero for our disrespectful and harmful actions. Seattle Rep should have created a poster, should have apologized, and should have better supported August Wilson as he was premiering How I Learned… – but we did not. As Mr. Wilson says in How I Learned…, "…it's not a little thing…It is about R-E-S-P-E-C-T."
Seattle Rep has offered a formal apology to Ms. Romero and the Wilson estate, which will be included in August Wilson's archives at the University of Pittsburgh Library. We offer this apology as a first step in repairing this relationship, and with gratitude to Ms. Romero for her continued work in engaging Seattle Rep and her steadfast stewardship of August Wilson's legacy and contribution to American culture. We are grateful to share that the August Wilson Legacy LLC and Ms. Romero have accepted this apology.
And Seattle Rep thanks August Wilson for his clarion call, sounded throughout his work, and especially in How I Learned…, to follow our principles and to always center the inherent dignity and respect of everyone who enters our spaces. Seattle Rep is on the journey to living up to that great call. We have failed. And we are learning from it. We acknowledge that failure, apologize, and commit to following our principles now and in the future.