Seattle Premiere

November 9 - December 22, 2019
Bagley Wright Theater
Long before 'women in rock' became a media catchphrase, Rosetta Tharpe proved in spectacular fashion that women rocked.
Inspired by Gayle F. Wald's book Shout, Sister, Shout!, this new theatrical work tells "The Godmother of Rock 'n' Roll's" incredible story.
Ambitious, courageous, and uncompromisingly public, Sister Rosetta Tharpe became a legend who redefined the national and international music scene in the 1930s and 40s.
Experience her incredible life through this rousing musical portrait.
| Event Type | Event Dates |
| --- | --- |
| Pay What You Choose | Nov 12, Nov 14, Nov 17, Nov 19, Nov 24, Dec 1, Dec 18 at 7:30 p.m. and Dec 8 at 2 p.m. |
| Preview Performances | Nov. 9, 10, and 12 at 7:30 p.m. |
| Pre-Play Design Talk | Nov. 12 at 6:45 p.m. |
| Opening Night | Nov. 13 at 7:30 p.m. |
| Captioned Performance | Nov. 21 at 7:30 p.m. |
| ASL Interpreted | Nov. 30 at 2:00 p.m. |
| Audio Described Performance | Nov. 30 at 2:00 p.m. |
| Post-Play Actor Talks | Dec. 4 at 2:00 p.m. and Dec. 13, 17 at 7:30 p.m. |
Cast, Production, Band
Conductor/Hammond Organ
Sheilah V. Walker
Keyboard 1/Rehearsal Pianist
Emma Weiss
Inside Seattle Rep
Read About the Play
Explore the making of the show, interviews, and more!
Shout Sister Shout! Press
Hear what the critics have to say about this rollicking new musical!
Student Matinees
For Teachers
Book this year's field trips today!
When you book a student matinee, you have access to four complimentary workshops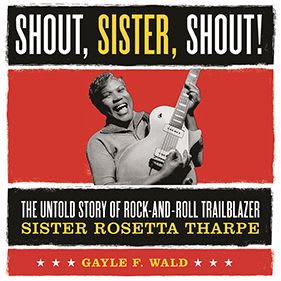 Delve into the unabridged audiobook of Gayle F. Wald's 2007 noted biography, Shout, Sister, Shout!, the eye-opening story of the "Godmother of Rock and Roll," GRAMMY® nominee and 2018 Rock and Roll Hall of Fame inductee, Sister Rosetta Tharpe. Read by Emmy® and Tony® Award-winner, Leslie Uggams, as well as Shawn T. Andrew and author and record producer, Anthony Heilbut, the audiobook was just released by Beacon Press and includes recordings by Sister Rosetta Tharpe.
Production Sponsors
Production Sponsor

Laurents/Hatcher Foundation