Have questions about how to renew a subscription online? Explore the topics below to find step-by-step instructions. If you have questions that aren't addressed here, please contact our Patron Services Office at 206.443.2222 and they'll be happy to assist you.
How to Renew
How to Log In To Your Account
Before you begin your subscription renewal, make sure that you are fully logged into your patron account on Seattle Rep's website. This will ensure you can properly access your renewal, as well as all of the other features available on seattlerep.org.
I think I'm already logged in to my account!
If you are already logged in to your Seattle Rep account, you can easily access your My Account page to begin your renewal by clicking the 'Your Account' button in the upper right corner, and then select 'My Account' from the dropdown menu.

How do I log in?
If you are not logged in, begin by clicking the 'Sign In' link in the upper right corner.
On the Login screen, enter the email address associated with your Seattle Rep account and your password to log in. If you're not sure which email to use, you can reference the subscription invoice you received in the mail which displays your main email address in our records.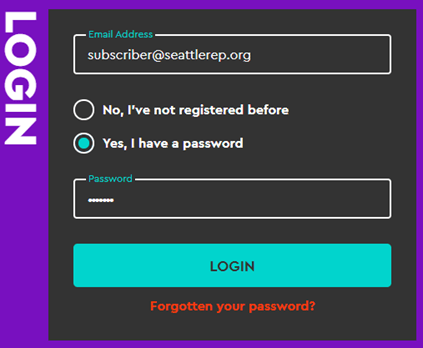 I've forgotten my password...
If you know the correct email to use but have forgotten your password, click the "Forgotten your password?" link. On the next screen, enter your email address and you will be sent an email with a link to set a new password. Please allow up to 5 minutes for the password-reset email to be delivered to your inbox.
I'm not sure I have an account at all.
If the invoice you received in the mail said 'No email on file' for your login, or you've never used an email address to do business with Seattle Rep, please call our Patron Services Office for assistance in getting a new account set up. If you create a new account using an email address not in our records, it will not be correctly linked to your subscription renewal and ticket history.
Using the My Account Page
Once you've accessed the My Account page, you can begin the renewal process and check other information about your account.

If you have any credit on your account from previously cancelled performances in the 2019/20 or 2020/21 seasons, you can see that information on the My Account page as well. Your credit can be applied to any subscription renewals or purchases, and you will be prompted to use your credit at the time of payment.
Renewing for 6 Play Premier or 4 Bagley Wright
If you have fixed seats currently being reserved for renewal (in a 6 Play Premier or 4 Bagley Wright subscription package), you will see the package displayed under the heading 'My Subscriptions.' Click the Renew button to begin the renewal process.
On the next screen, you will be shown the details of your subscription renewal, including price, day of week, and seat locations. From here, you can choose one of three options: to renew your subscription as-is, to renew your day and date but request a change in seat location, or to change to a different subscription package entirely.
Renewing Your Subscription As-Is
The subscription will be added to your cart. Make sure all the details are correct, then check the checkbox indicating your acceptance of Seattle Rep's ticket policies and COVID-19 protocols. Once the checkbox is checked, you can click the button to Proceed to Checkout.
Requesting a Seat Change
After selecting this option, click one of the two buttons to let us know if you want to be closer to the center or an aisle, and then provide any more details in the text box. We will accommodate seat change requests as best we can, but will renew your existing seats if a change is not possible to make.
Changing Your Subscription Package
After selecting this option, you'll be given a list of other packages to change into. Choose the new package you'd like to purchase, and then follow the prompts to choose your day of week, number of seats, and seating zone(s). If the package you wish to change into isn't listed, please contact the Patron Services Office directly for assistance with releasing your old package and changing into a new one.
After selecting your new subscription package, your cart will update to reflect the new package and its price, as well as noting the original package you are requesting to change out of. To finish your renewal, you will be charged for the cost of your new subscription. If your requested change ends up not possible to make, our Patron Services Team will contact you to discuss your options and refund the difference in cost, if necessary.
Renewing Patron Choice Packages
If you want to renew a Patron Choice package, a message with instructions should appear in the 'Your Messages' area of your My Account page.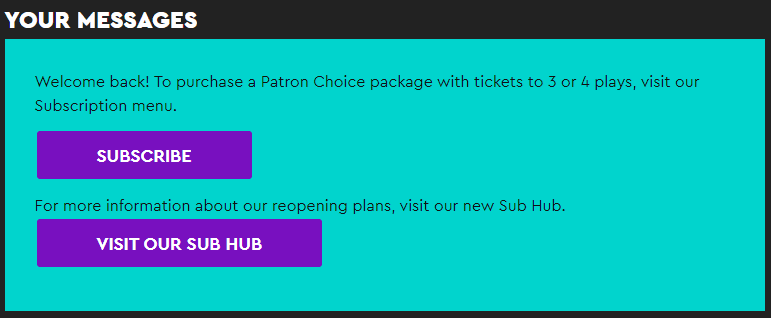 Click the 'Subscribe' button to go to the Subscriptions purchase page, and choose Patron Choice from the options displayed.

On the Patron Choice selection screen, you can choose between a 4-play or 3-play package.
Make your selection, and on the next screen select your desired day of week and time to attend.

Finally, choose the number of seats you wish to purchase, and choose the 3 or 4 plays you wish to see from the menu by clicking on them. The counter at the bottom will confirm when you have selected the correct number of plays to fulfill the subscription.
Add any special seating needs or requests in the notes field, and proceed to add your Patron Choice subscription to your cart.
Payment, Using Credit, and Completing Your Renewal
Once your renewal has been added to your cart, confirm that the details are correct. When you are ready to complete your renewal, click the checkbox indicating that you agree with Seattle Rep's ticket policies and COVID-19 protocols. You can click on either link to reference those policies before completing your purchase.
After proceeding through the checkout process, the final screen asks for the debit/credit card to be used for payment, and includes an option to apply credit if you have any.

Click the 'Apply On Account Credit' to use your credit, if you wish. If you have enough credit to pay in full, this will automatically complete your order. If there is still an amount due after using your credit, you will be prompted to provide a debit/credit card for the remainder.
After completing payment with account credit, your debit/credit card, or a combination of the two, you will reach a confirmation screen with details about your renewal. An email will also be sent to your associated email account for your records. Thank you for renewing and joining us for Seattle Rep's 2021/22 season!