Theatre Of, By, And For The People
Public Works Seattle collaborates with an incredible group of community participants guided by the values of equity, imagination, and joy with an eye toward making this program truly with, by, and for the people of Seattle.
So far, we've produced an awe-inspiring show on the Bagley stage, hosted and attended hundreds of workshops around town, saw dozens of shows, and shared countless meals together. Now we do it all again, further deepening and expanding the Rep's commitment to offer theatre that inspires community and in turn, invites our community to inspire the theatre.
Angie Kamel, Public Works Director
Volunteer

Interested in Volunteering? We're always looking for folks who love to build community through the arts.

Sign Up

News

Sign up and we'll keep you looped in on Public Works Seattle news, auditions, merch, and more!

Subscribe

Donate

We need your continued support on this journey to help keep this initiative sailing beyond it's inaugural year.

Give Now
Auditions
Auditions for As You Like It will be held in May of 2019. Stay tuned for more details or sign up for our newsletter to get the word as soon as it's out.
Public Works Seattle invites a stunning diversity of people to participate in workshops and classes, to attend performances, and to join in the creation of ambitious works of participatory theatre.
Classes

Communities participate in acting classes ranging from improv to spoken word to musical theatre and Shakespeare.

Conversation

Together we attend plays, discussions, and social events to deepen our connections.

Collaboration

In the summer, we all come together to create a large-scale production that puts our city center stage.
Public Works Seattle uses the methodology of the Public Works program of The Public Theater in NYC, conceived by Lear DeBessonet under the leadership of Artistic Director Oskar Eustis and Executive Director Patrick Willingham.
Photo gallery from the 2017 production of The Odyssey, featuring over 100 citizens from across Seattle on the Bagley Wright Theatre stage.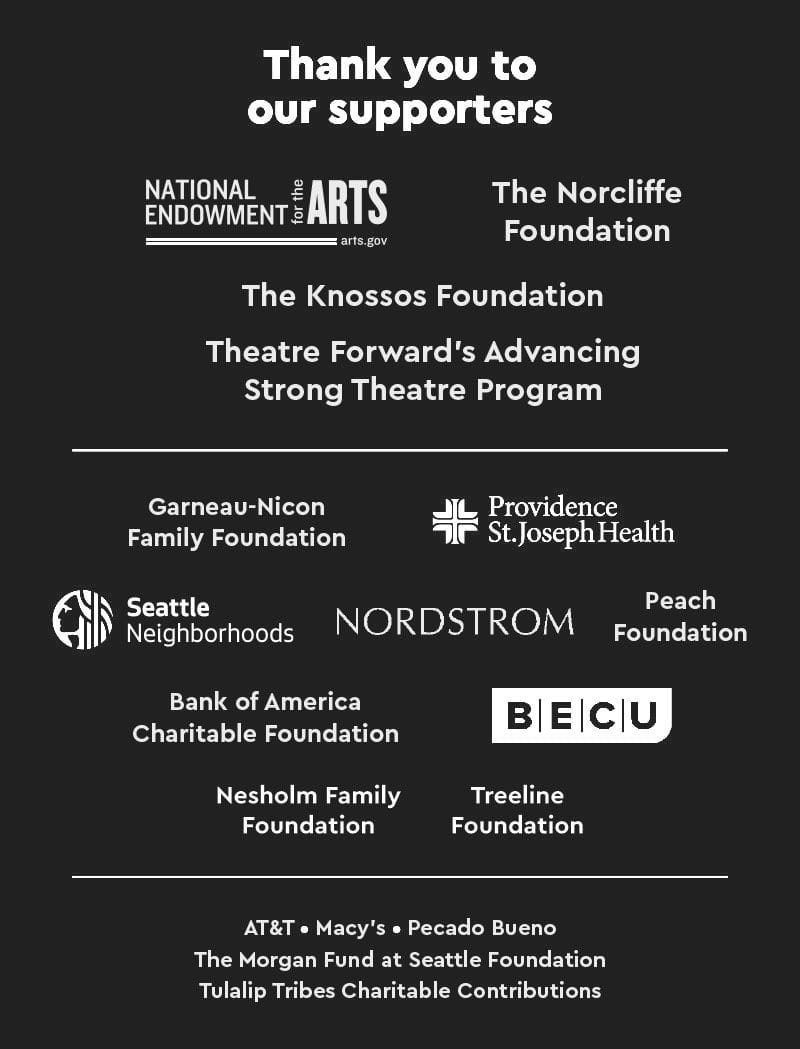 National Endowment for the Arts
Theatre Forward's Advancing Strong Theatre Program, made possible with leadership gifts by James S. and Lynne P. Turley, Citi, The Schloss Family Foundation, Stephanie Scott, Bank of America, the Board of Directors of Theatre Forward, and other supporters.
The Morgan Fund at Seattle Foundation

Bank of America Charitable Foundation

Garneau-Nicon Family Foundation

AT&T

Nesholm Family Foundation

Home Street Bank